North Mountain (pics)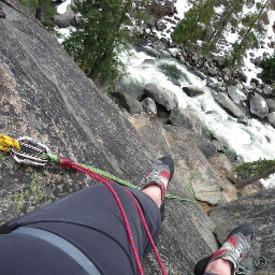 A good friend and I skied an under appreciated gem last weekend. We drove as far as we could without getting stuck, and started up the mountain. Conditions were marginal but got better quickly and we wound up having lots of fun. More smiles than usual in our pictures of each other. 🙂 Being outdoors with good company and good scenery does that to you.
A few jeeps had been there before us, and there were tire ruts for a while. It made for slow and deliberate travel for the first mile; eventually the snow got deep enough to stop whoever had been up there, and, finally, we had nothing but untouched powder ahead. Eventually our turnaround time came and we had even more fun on the way down. ⛷️
It was a beautiful spring day (Feb 27) and a lot of snow melted while we were up above, forcing us to walk the last mile and a half to the car. We startled a hawk on the way and got to watch it fly through the trees with the grace and agility of a ballerina.
Replies
Categories
1.4M

Health, Wellness and Goals

98.3K

Social Corner

1.1K

MyFitnessPal Information