Daily Report 2015-7-18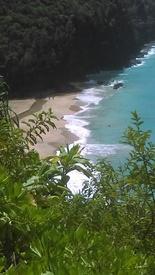 Sorry I didn't post yesterday. Such a busy day for me too.
I had a great day! Up early to go hiking to Stewart Falls. Great time with some of the grandchildren. Only 3.5 hours then home to bike for 55 minutes and then out the door for swimming. The swimming was great but I was sad the hot tub in out of commission. Stretching when I got home.
Here's the funny story. The kids had a ball running through the backside of the falls. Still got really wet. The youngest really wanted to go but just couldn't do it. He was jumping up and down in so much excitement, then couldn't muster up the courage. Finally he asked me take his hand and walk him up there. Mind you, I am still fully dressed, not ready to get wet (I did wear my swimwear under my clothes) and wearing my hiking boots. We get up there, and he chickens out but instead of just going back to a safe spot he starts pushing me into the falls! Well, I'm getting wet so I grab him and take him with me. Oh, was he mad at me. As I'm trying to calm him on the other side, I say "do you want to go back through or do you just want to cross the river. I'll go where ever you go." No! he says, you go back through the waterfall and I'm going across the river!. lol He got over it and when he told his mother, he said "I was just fake crying. It was really fun!" I even have video. Here is a pic.