Daily Report -2015- 8-4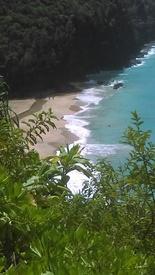 I was hoping someone else would start this thread this morning but hear goes anyway....
Good morning! I want it to be a good morning and a great day. Just not feeling it today. And I haven't exercised. That would probably help my mood but now I am at work. Yesterday was really good up until the end. Some miscommunication and I can't seem to get over it. We will just leave it at that.
My husband starts a new job today. He had to quit his last one after just a month because of his back. It was a desk job, sitting for 8 hours a day and he just got worst as the time went by. So here is hoping good luck on the new job!
Went for a bike ride yesterday. It rained in the morning but let up later. One spot is a boardwalk with treated wood, so slippery when wet. You guessed it, took the 90 degree corner a little too fast for the wet boards and laid my bike down. I didn't think I was too hurt but did take it on my right side - ankle, knee, wrist and elbow. We kept going but I had to turn back after awhile. My wrist and elbow was giving me the most trouble. It's not too bad this morning. I'll probably not ride for the rest of the week to give my wrist a rest. I'm sure I can still hike.
Can't wait to hear about your day. Get some good rest tonight Bella, sending good luck (not that you need it) your way for your test tomorrow!
Happiness is to be found along the way, not at the end of the road, for then the journey is over and it is too late. -R Updegraff Keep reminding myself of this.
Alisa
Replies