Cholesterol panel results
Thanks to all who commented on my post on Friday in which I panicked over my huge cholesterol level increase this year vs. last year. The additional info is below.
Would love any insights! I've been trying to focus on fats like avocado and nuts vs. cheese/meats in the past few days and it's definitely making my carb levels climb, but not sure that's a bad thing as I still feel satiated and am not going above my caloric limit.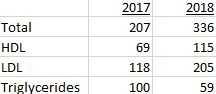 Replies