Apparently Shrinking, Peeved, Need to Vent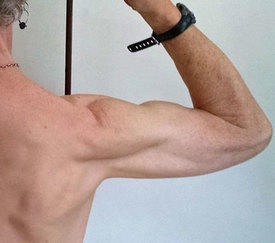 Hi, all -
Normally, I'm pretty upbeat, but I'm feeling a little cross this evening, in a way that I'm guessing some of my fellow over-50s can relate to, and I just need to vent a bit.
I went to my OB/GYN today, and this was the first time anyone's measured my height in a few years. As a youth, I was 5'6" or close. Last I knew - and after an osteopenia diagnosis - I was 5'5". Today, they measured me at 5' 3 & 3/4. Arrgh.
Admittedly, I didn't make an effort to draw myself up to my full outraged height
before
the measurement, but jeesh.
I already had a bone density scan (coincidentally) on my calendar for tomorrow, so we'll see how they measure my height (as I assume they'll do), and what they say about my bone density. I'd been attributing the osteopenia to an anti-estrogen drug I had to take for around 5 years, following cancer treatment, and I took drugs (bisphosphonates) for the osteopenia for about 4 years (after which there was improvement and they said I could stop). But this sounds like bad news.
I guess we'll see. Hrmph.
Replies