New Man on the block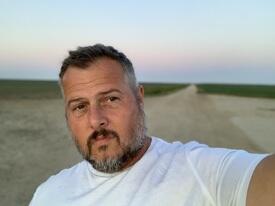 Hi, all.
Have been reading through your messages and quite frankly, what you all are achieving is amazing... and certainly a booster for a newby like me! You bring a realism to it, and a refreshing honesty ... so please accept a massive generic thank you to everyone that posts here.
So ... me?.... I'm a 46 year old (separated) dad of three. Used to play rugby, squash etc... but you know the routine... i now sit at a desk job for 8-9 hours a day - add to that a 1hr and 15m commute each way and before you know it, any 'me' time goes out the window... i was no longer in control and my body was suffering because of it. two weeks ago I recorded my weiht at 256 lbs - which horrified me.... and I gave myself the biggest kick up the butt ever.
I ordered the wrist mounted fitbit and wifi scales... determined to shame myself everyday until my weight fell off.... The thing with the fitbit is.... its so competitive... i now find excuses to walk further... take a different route etc. I also banned certain foods - bread and pasta would actively make me feel tired... so they are out. Fresh fruit and veg are in and i upped my protein levels too. Invested in some running shoes and began to gently jog the local streets. Yes, admittedly old ladies were over taking me, just walking with there shopping bags, but at least I was doing something.
That wasn't enough for me... I like a challenge... and beleive being taken out of our comfort zone is good for us.... so i joined here and also ordered P90X... have now been on it 4 days
Weight this morning was 243.5 Ib.... i feel more energetic and I'm not suffering the energy peaks and troughs. Yes I ache... getting up is the worst... but its not as bad as I thought. and honestly - I'm loving it. It is diff to fit in 60-90 a day exercise but at the end of the day i won't see a difference if I don't make a change. My target incidentaly is 175 Ibs
Visiting this site truely inspires me.... I know its very early days for me - and there will be platos and set backs... and probably umpteen questions that I haven't yet thought of.
Anyway - enough of me boring you. Please drop by and say hi. I'd be honoured if you were part of my story... and I'm so grateful to you all for sharing yours.
All the best
Mikey.
Replies
Categories
1.4M

Health, Wellness and Goals

98.6K

Social Corner

2.1K

MyFitnessPal Information