Crazy differences weight loss can make... (with pics)
Sometimes through a weight loss journey it's easy to get frustrated, caught up in the moment. You may not like that the scale doesn't move as quick as you want it to. You may be mad that you can't eat some of the things that you miss. But over time, you stop craving food that you haven't ate in awhile, for me I don't even want some of that same food or it makes me sick. This journey has given me a new found love for running and in 10 days I will be running my half marathon. While preparing for my first half marathon, I started to think about where I came from.
I started my journey in the fall of 2008. In 2008 I coudn't run, it sucked to use the elliptical for more than 10 minutes at a time, I was embarrassed by my clothing size and my weight. If someone would have asked me in 2008 how much I weighed I would have lied or told them I didn't know. I never thought that my weight made me unhappy, but when I see how much happiness I have now, I question whether or not that was true.
I have gained a lot of things through this journey- self confidence, the ability to kick *kitten* and become a runner. To set goals and make them. I am not sick hardly at all. I went back and deleted old facebook posts and in 2008 I was sick a lot- allergies, sinus, lack of energy, etc. I can't remember the last time I was really sick now.
I am still the same person- but I think my strong qualities became stronger and I worked on my weaker qualities. Looking back at the pictures, it was crazy to see all of the changes over the past 6 years.
I thought I would post this to pass along to someone who might be struggling that all you have to do is making good choices and be willing to fight every day. It is possible, I didn't think it was in 2008- I exceeded every goal that I ever had and ones that I hadn't even dreamt about. So can you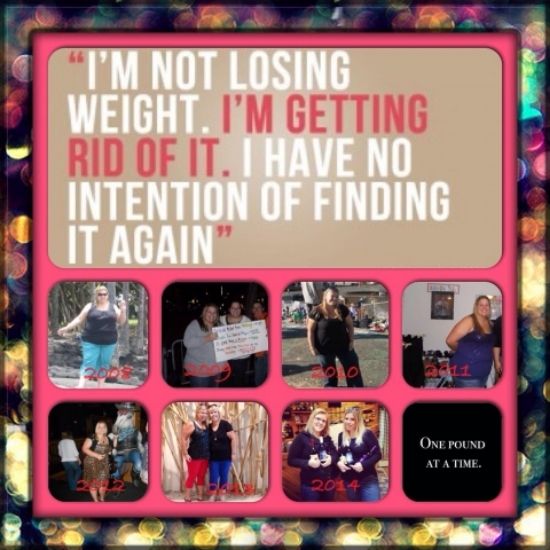 Replies
Categories
1.4M

Health, Wellness and Goals

98.8K

Social Corner

2.8K

MyFitnessPal Information
Do you Love MyFitnessPal? Have you crushed a goal or improved your life through better nutrition using MyFitnessPal?
Share your success and inspire others. Leave us a review on
Apple
Or
Google Play
stores!