I CANNOT Believe This!!!!
Well, I'm sort of just reeling in shock, as I've just finished taking the second picture and viewing it next to the first.
40 days ago, I discovered the LiveFit program online. I took about two weeks to get used to the eating plan before I officially started Phase 1 (because I thought it might be too hard to make too many changes at one time), so as of today I've been eating clean for 40 days, but I'm also on Day 28 of LiveFit, starting Phase 2 tomorrow.
What's got me completely amazed is not so much the difference between the two pictures (I've been working really hard, so I would hope the change was visible!) but the fact that there's only a difference of 1.6 pounds between the two pictures! I've been eating between 1500-1800 calories per day, at about 40/40/20. This is ONLY weight lifting, NO cardio. The cardio isn't introduced in the LiveFit program until Phase 2, which means I'll start it tomorrow.
Can you believe this? I know I still have a long way to go, but seeing the change is unbelievably encouraging to me. I can't wait to see where I'll be in another four weeks!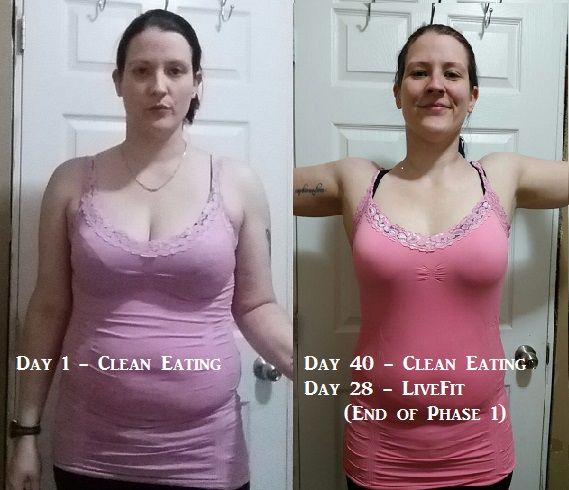 Replies
Categories
1.4M

Health, Wellness and Goals

98.7K

Social Corner

2.6K

MyFitnessPal Information
Do you Love MyFitnessPal? Have you crushed a goal or improved your life through better nutrition using MyFitnessPal?
Share your success and inspire others. Leave us a review on
Apple
Or
Google Play
stores!