Feeling odd (literally). Anyone else?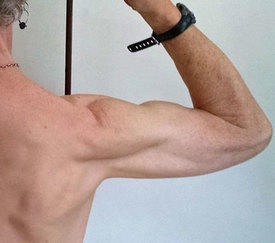 I'm 59, active, female, lost a bit over 40 pounds since April.

This is not a *problem* for me, but I have to say, I feel odd . . . and I mean that quite literally.

When I wash my hands, I sometimes have a brief moment of surprise: They feel so *small* (and I didn't have super puffy hands in the first place).

And when I unthinkingly put a hand on my hip: Whoa! It grabs my attention. At first, I was surprised to feel some muscles moving around under my thumb, on my back. It used to be soft & squishy. Now I'm starting to feel some newly-uncovered muscle-like stuff with my fingers, around in front, too.

And that quad stretch where you grab your foot behind you? Wow - I can grab it pretty easily: Less thigh in my way. (No, sadly, not more flexible . . . .)

Does anyone else who's had some (modest) success have these unexpected "what the what?" moments of self-perception? If so, describe . . . .
Replies
Categories
1.4M

Health, Wellness and Goals

98.4K

Social Corner

1.3K

MyFitnessPal Information