120 Day progress. :-/ Not really success...but it is what it is.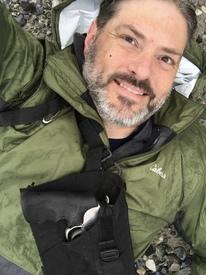 So - between day 1 on the left and day 120 on the right I see not-terrible progress.
My pattern has been this: Less than 1500 calories per day with maybe half-dozen approaching 1700-1800 (for my cheat days). Very low carbs; only carbs from bananas and cashews and the protein bars. Maybe have had two servings of pasta and maybe 3 slices of bread in 3 months.
I am most-frustrated over the last month's almost-no-loss. Looking at the photos I can see I might have built muscle - my chest looks fuller up top and my arms are more-solid looking. I think I look stronger than at the 90 day pic (in the center). My little man-boobs are pooching now, which I hate - but I can see the muscle behind them which might exacerbate the boob-lets. My "hate-handles" at my mid section have changed in the last 30 days.
As far as non-scale stuff. 30 days ago I bought jeans that fit. Today they are loose. 30 days ago I used 15kg dumbells for my curls, now I use 17.5kg. I'm up three plates on the tricep-pull-downs. AND I missed a solid week of the gym because of illness.
When I see others - and this is stupid of me because that's THEIR body, not mine - having lost like 40lbs in 4 months I can feel pretty terrible about my remaining fat. I remind myself every day "this is what's happening to me."
Nobody else's success or failure has anything to do with mine. I am frustrated a lot at the lack of loss this month; I don't want to drop to 1000-1100 calories because on those days; which happen sometimes - i get a little dizzy.
So - whatever. My body still sucks. But my body will not suck forever.
Replies
Categories
1.4M

Health, Wellness and Goals

98.7K

Social Corner

2.8K

MyFitnessPal Information
Do you Love MyFitnessPal? Have you crushed a goal or improved your life through better nutrition using MyFitnessPal?
Share your success and inspire others. Leave us a review on
Apple
Or
Google Play
stores!