Can you do a plank for 1 minute? Can you do some push-ups? Then you can do this.
http://www.welcometotheonepercent.com/zuzkalight-10-week-arm-balance-challenge/
There are 10 weeks, with 10 instruction videos.
The ultimate goal is to be able to do a handstand, with lots of cool stuff on the way.
Week 1: Crow Pose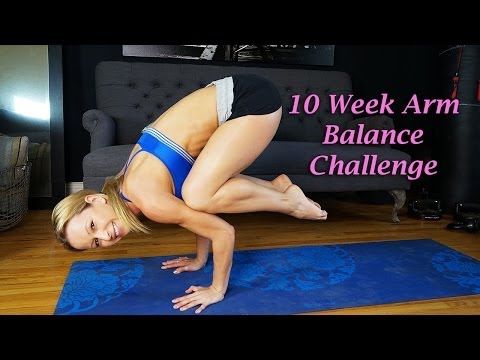 I've started practicing already, so here's a pic of my Crow Pose.
I'm really excited about learning more arm balance poses, and developing my strength, balance, and handstands.
The other weeks are:
Week 2: Side Crow
Week 3: Flying Pigeon
Week 4: Firefly
Week 5: Eight Angle Pose
Week 6: Handstand
Week 7: Handstand part 2
Week 8: Bridge
Week 9: Handstand further away from wall
Week 10: How to bail out of a handstand