Sensitive question for lady cyclists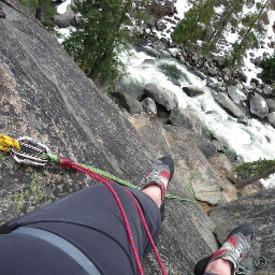 Beth is starting to catch the bug. She isn't quite comfortable yet riding in Seattle because of the traffic and crowds, so we drive out to the country on weekends and rent her a bike, then ride it in a lonesome and scenic place. She loves it, and exercise is just a side effect of having fun.

She complains about her lady bits when we finish. We keep renting her comfort bikes that have these giant padded couches to sit on. My hunch is they're too big to sit properly on, forcing all her weight onto the nose.

Does that sound reasonable? Would a regular saddle be likely to fix this for her? Or should we look elsewhere for a solution?

We've been seeking out places that are good for a beginner to ride, and that's limited the types of bikes available to rent. I got her on a road bike but she found it too twitchy, so she's really only ridden comfort cruiser bikes. We have plans to rent her an MTB once the fires are out. She wants to have her own bike before long, I have half a mind to buy a nice saddle now and put it on the bikes we rent for her in the meantime.
Replies
Categories
1.4M

Health, Wellness and Goals

98.3K

Social Corner

968

MyFitnessPal Information