Changes to face - your thoughts?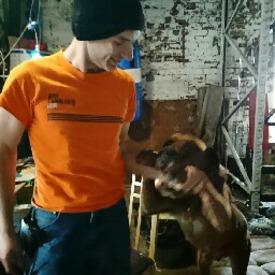 From an independent point of view, anyone care to comment on the two pics of me:
(A bit different lighting etc I know.)
Background:
I did think looking at the second picture, that I perhaps did look "a bit gaunt". My ex and some people at work have commented the same too.
Rather than those that have known me for many years (including myself); interesting to see other's views.
The first picture was taken two and a quarter years ago - the second a couple of months ago.
13 stone or so in the first, 11 stone or so in the second. (182lb/154lb, 82.5kg/70kg.)
That puts me at a very central BMI - it's perhaps offset a little by having a larger than average frame, but medically still a 'healthy' weight.
Thoughts either way aren't going to change anything for the moment - my plan always was to stick at around this weight when I got here and there's other aspects I'm quite happy with.
(When I can sort out some ongoing issues hope to get back on the weights and then will be trying to put some weight on, probably not going below my current body fat.)
And for the record... I've got a *big* meal planned soon, so was keeping until that as CICO if my body is working normally would dictate gaining 1-2lb from that, but will be moving to taper and then find maintenance after that.
First weigh in for ages was just a smidge under the 11 stone last week and this week actually 10 stone 12lb (152lb, 69kg)... so I had some icecream and a bigger dinner today
.
Replies
Categories
1.4M

Health, Wellness and Goals

98.7K

Social Corner

2.6K

MyFitnessPal Information