My 100 pound journey... with pics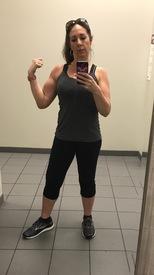 I debated whether to wait until I lost a few more pounds to post my story or to do it now. I decided on now. I'd still like to maybe lose 5 pounds and do some recomp, but I've come a long way.
My story... as a kid, I was tall and thin, my mom said she could not even find pants long enough that would stay up on me. Fast forward to the age of 22, I had ballooned up to 262 pounds on my 5'7" frame. I was dating someone from 19-21, who he and his best friend, a female, ate like lunatics. He was juvenile diabetic and wasn't allowed to eat junk at home, she was a very big girl and loved to have people to eat with. It was a disaster waiting to happen. Never mind that we were smoking pot and then munching. I have struggled ever since then. I graduated hairdressing school at 22 and my father told me I would never get a job because of my weight and I didn't look the part for the fashion industry.
At 22 I joined a high protein moderate carb weight loss clinic and lost about 70 pounds with it. The owner had set a goal weight for me at 160. I have been trying to get to that number for 25 years! Once when I was in my mid thirties, i was at 235 again, I managed to get to 168 for about two days. That was the closest I ever got. Never stayed anywhere though. I would sometimes sit in the 180's for a while. I was miserable, had no self confidence. My life revolved around my weight, trying to lose weight, joining weight watchers, going to the gym for a couple years at a time, until I started dating someone and broke my good habits and picked up their bad ones. Dates revolved around going out to eat and drinking. Plus, I love to cook and bake so I was always cooking lots of yummy stuff for them. I just could not break this cycle. Had done WW with success but the best success I had was with body for life, which I have done on and off for 12 or so years. I had started lifting weights because of a coworker who was married to a gym owner, so that has been part of my life off and on for about 25 years.
Today.... on March 9, 2016, I decided I had had enough! I had been on fertility meds and in two car accidents, both which required multiple steroid shots for my knee and my back, all in six months, and had ballooned back up to 255, my highest weight since the 262 at 22. I was living with my ex fiancée, well he lived with me, who could eat whatever and not gain an ounce. I told him, this is the day I get healthy. No more excuses, no more yo-yo ing. I started working out and eating healthy that moment. He was very supportive.
A little over a year into it, 84 pounds down and going strong, all kinds of tragedies happened. I was dating someone new but still friends with the ex. I fell head over heels for this guy, then he broke my heart, ok, I got through it. Started dating someone else... then boom... found my ex fiancée dead in his apartment, it was awful. Two weeks later I get an email that another ex boyfriend of mine had died (didn't care much about that but still, it's sad) two weeks after that, the current boyfriend was rushed to hospital, had an emergency surgery and ended up on life support for two days, very very close to dead. He pulled through and I took some time taking care of him. During these months I put my stuff to the side a bit and gained 14 pounds. I had scheduled a tummy tuck and arm lift for July and still went through with it. The boyfriend and I broke up during my recovery. My mom got diagnosed with lung cancer somewhere between September and November and has had two surgeries since then. It was 7 months of non stop doctors and I managed to stay in control through the whole ordeal. I struggled to get back on program for three months, August-November. Finally November 20 of 2017, something clicked and I got back on track. I am now sitting at about 155, sometimes a bit lower, so about 100 pounds from my starting weight in 2016 and easily in a comfortable size 6! The BIG difference here... I did not let it get away from me. I fought for myself! Yes, I gained a little back, but I lost it and much more. I hit the goal I've been striving for since I was 22, 25 years ago! I would still like to go a little lower, never even thought I'd get here, but now I have bigger goals.
I am scheduled for my next plastic surgery this coming Tuesday, a thigh/butt lift. I have hated my thighs for 25 years and I cannot wait to do this. After this I will work on finding where I want to stay forever. Be it at this weight or a couple pounds lower. I never thought I'd be a success story but I am so happy that I can say I am. It doesn't automatically make life easier, I still struggle with many things, but I feel more in control now and hope that will carry over to other parts of my life.
I know this is long and probably too much, but if I was going to tell it, I had to get it all out. Here are my progress pics.
Replies
Categories
1.4M

Health, Wellness and Goals

98.4K

Social Corner

1.5K

MyFitnessPal Information