Rotator cuff issues - particularly 'pushing' movements - not healing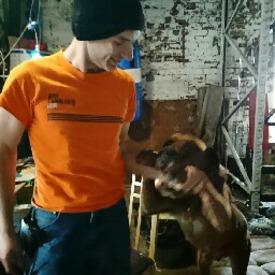 My right hand rotator cuff (or that general area) has been painful for a while in certain positions.
I stopped doing weights over 4 months ago now as bench press and overhead press were obviously causing it problems and thus I also wasn't progressing on them.
Pull ups/rows didn't seem too bad and dips where somewhere inbetween - definitely not as bad as with arms pushing when in-front or above me.
I've just swung my arms about a bit and sitting on my sofa it feels worst if I hold the elbow at about 90 degrees with the forearm forward (as I was going to do a bench press, but at a position that would see the bar over my neck rather than chest).

Any suggestions on what the exact problem is likely to be and anything I can do to try and 'fix' it?

I did go to the doctor a while ago and he merely said "just rest it" and wouldn't offer anything more. Might try going again, but I doubt I'll get more without paying someone.

Also, would I be 'safe' to do weights that don't seem to cause it problems - ie pull ups etc.
Replies
Categories
1.4M

Health, Wellness and Goals

98.7K

Social Corner

2.6K

MyFitnessPal Information