My Journey (With Pics)
I decided back in February 2012 I was going to make changes. Changes for ME. We had plans to take son on a trip of his choice for a high school graduation gift. Plus I didn't want to be hiding behind the camera at graduation. But standing proud next to him. I knew I had to feel better about myself.
So I set out to make changes. I started out over 180 pounds. I walked. I logged in here. I stopped drinking soda. I was ready for making me feel better about me. I gave myself a goal of 50 lbs. by the last week of May 2013. Over an year. I was sure this was possible.
Though I hit close to the weight goal didn't quite make it .. but I am still VERY HAPPY with results. I did gain a little while on the graduation trip, and I have been slow at getting back on the healthy choices since returning. I am still very happy. So here is a small peek at that journey.
Plus you know what? I didn't hide behind any camera's. Not at graduation. Not on vacation.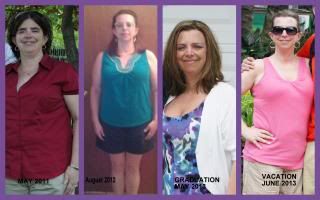 Thanks for stopping by and sharing my journey!!
Replies
Categories
1.4M

Health, Wellness and Goals

98.7K

Social Corner

2.6K

MyFitnessPal Information
Do you Love MyFitnessPal? Have you crushed a goal or improved your life through better nutrition using MyFitnessPal?
Share your success and inspire others. Leave us a review on
Apple
Or
Google Play
stores!