For those of you who want to track your weight but have anxiety with weight fluctuations...try this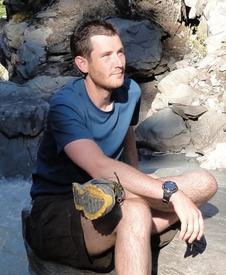 On the forums here I see daily posts about how someone just stepped on the scale and it read 3 pounds higher and they felt devastated and like they had lost all of their progress. They maybe told that random weight fluctuations are to be expected but it is hard to see that when you just look at single scalar measurements.
So try a moving average instead to smooth out the error associated with your measurements.
Here is my weight tracked almost daily over the period of a month plotting the scalar single measurements over time.
What a mess right? How can you see anything in that garbage...is my diet working? Am I losing weight? Doesn't feel like it and it doesn't even look like it...its upsetting right?
Now here is that exact same data calculated as a moving average.
From this I can apply a fit and from that fit I can calculate that over that month I was losing a pretty consistant 0.5 pounds per week...the overall trend is clear. If I want to lose more then I know I need to adjust my diet and continue to track and see what happens to the slope over time.
Last time I lost weight I also used a moving average, with more data and more time it smoothed even more until my progress was very predictable and easy to track.
Over that period of 5 months I lost pretty consistently 1.1 pounds per week. The longer you are doing this as long as you are consistant with your diet the clearer the trend will become.
So what is a moving average? Its super simple actually.
If you measure your weight daily each datapoint is a scalar value. Lets say you track your weight by day and it looks like this:
1 180
2 179
3 177.8
4 179
5 179
6 179
7 176.8
8 179.2
9 179.2
10 179.2
11 180
12 176.8
13 176.8
14 176.4
15 178.2
16 178
17 178.2
18 177.2
19 177.2
20 177.2
21 177.2
A moving average has a period, the larger the period the more smoothing you will do to the data. Lets pick a period of 8. What that means is that on a given day your value is the average of 7 days, 3 before and 3 after plus what you just measured.
So it looks like this:
Moving average
1
2
3
4 178.7
5 178.5
6 178.6
7 178.8
8 178.9
9 178.6
10 178.3
11 178.2
12 178.1
13 177.9
14 177.8
15 177.4
16 177.4
17 177.5
18
19
20
21
So basically on Day 4 in this example the weighted average is the average of your weight on Day 1 through Day 7 while on Day 5 the weighted average is the average on your weight on Day 2 through Day 8 and so on. Notice how much smoother then transition day to day becomes then.
This certainly isn't necessary to do, but if you have high anxiety from your scale but can't bear to not track your weight you might want to give this a try. It will turn the scale from something you dread to stand on to another datapoint for your ever increasingly accurate tracking.
Replies
Categories
1.4M

Health, Wellness and Goals

98.7K

Social Corner

2.6K

MyFitnessPal Information