Basic squat help needed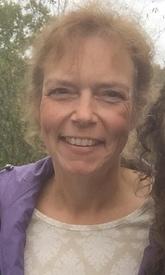 Everybody talks about doing squats so I feel pretty stupid that I can't seem to manage doing one. Yep, just one good one. I've watched tons of Youtube videos. I had the trainer at my gym show me--he had me do them with the bar on the smith machine and I could manage that but they are difficult. But bodyweight squats I just cannot get my thigh crease at or below my knee.

I don't think it is a strength problem--I've been working hard on various other exercises focusing on hams and glutes--I should surely have the strength to do 5 or 10 of these. I'm starting to suspect it's a flexibility issue. Does this sound plausible? One video I saw recommended improving flexibility by getting in an ATG squat position and staying there for ten minutes everyday. I did try it but even then I have to hold onto something as I can't maintain my balance--my body wants to fall over backwards.

My second issue, maybe or maybe not related to the first issue, is my posture going down. I feel like I am folding too far forward at the waist, compared to others I see doing it. I do keep my eyes forward and am trying very hard to keep my chest lifted. If I don't bend so far forward, again my center of gravity feels like I will fall backward.

When I do them on the smith machine, my back is much more upright but the bar is also taking the weight that would be flipping me back if it weren't there.

I have no idea if this is part of it but physically I have a relatively long back. I found out about ten years ago when I had disc surgery that I have an extra vertebrae. I don't think it's that uncommon, but I just throw that out there anyway for what it's worth.

Any thoughts on whether this is a strength or flexibility issue, and how I should go about working on it would be greatly appreciated!
Replies
Categories
1.4M

Health, Wellness and Goals

98.7K

Social Corner

2.6K

MyFitnessPal Information