Nearly 70lbs down - getting there...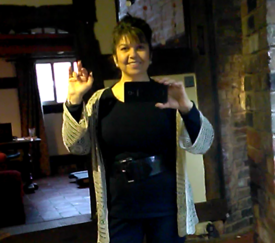 I would still like to lose another stone or perhaps more (I'll see when I get there), but as I've taken my first ever selfie today, I thought I'd share my progress.
The 'before' pic was taken in February 2016. I was 233lbs. At the beginning of April I began to calorie count and have lost 68lbs so far.
It's not been that hard, but it certainly wasn't quite as easy as it was when I was younger. I'm 55 now, post-menopause and on post-cancer drugs which stop the production of estrogen, which in theory make it harder to lose. I don't think any of that has made much much difference. Slower, but definitely 'doable'.
For anyone interested, the team pic is with my husband and son at the filming of Robot Wars (like the U.S) BattleBots. We had a blast and got into the final. This years series which we are also in starts this weekend on the BBC. Knowing I wanted to look better for the new filming was just one of the many reasons I started this journey. Not the most worthy, admittedly, but honest
Replies
Categories
1.4M

Health, Wellness and Goals

98.7K

Social Corner

2.6K

MyFitnessPal Information
Do you Love MyFitnessPal? Have you crushed a goal or improved your life through better nutrition using MyFitnessPal?
Share your success and inspire others. Leave us a review on
Apple
Or
Google Play
stores!