Biochemistry answers for common weight loss questions: What are Macros-Fats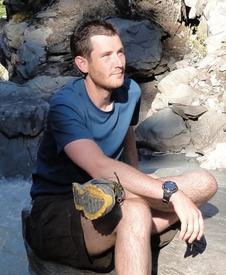 Macros, in nutrition, are the primary different types of molecules within your food that you derive energy from: protein, fats and carbohydrates. In biochemistry these three types of molecules are the main molecules that make up all of biological life. I will go through each one and explain what their general composition is, what role they play in life and what they are broken down into when we metabolize them for energy. Lets start with fat.
Fats
Fats in biology take the form of fatty acid chains which are long chains of carbon with only hydrogen molecules attached to fill their valence shell. These types of molecules are called hydrocarbons (hydrogen + carbon). Hydrocarbons you might be familiar with are methane (natural gas), propane, butayne which are different only in how long the chain of carbons is.
Gasoline is just a mixture of different chain length hydrocarbons between 4 and 12 carbons long. Hydrocarbons alone are not soluble in water (they are called hydrophobic) and we are not capable of digesting or processing them (don't drink gasoline folks). On a side note you could also get the smaller version of these molecules to be polar and soluble in water (hydrophilic) by just replacing one of the hydrogens with oxygen. The result would be that methane would become methanol and ethane would become ethanol, which you might be familiar with as alcohols.
In biology the ends of long hydrocarbon chains are modified with a carboxylic acid which is carbon with attached oxygens , this introduces a polarity to the molecule that gives one end a bit of reactivity.
Typically in living organisms for storage of hydrocarbons these molecules are attached via their reactive carboxylic acid group to glycerol in order to make them semisoluble. Three chains can be attached to glycerol in what is called a triglyceride.
Glycerol:
Triglyceride
If the carbons in the hydrocarbon chain are linked only with single bonds then they are referred to as being saturated. A saturated fat is a triglyceride where all the hydrocarbon chains are single-bonded. An effect of this is unsaturated fats are straight and can pack very tightly, they will form solids at room temperature like butter. An unsaturated fat is where a double bond is introduced between some of the carbons. That double bond can either have hydrogens connected to the joined carbons on the same side (cis) on opposite sides (trans). If it is cis then a kink is introduced into the chain, if it is trans the chain remains straight.
As a result cis unsaturated fats with that kink cannot pack tightly together and as a result they will form liquids at room temperature (oils) rather than solids. Trans-fats however can still pack tightly together so they behave more like saturated fats.
Triglycerides are how hydrocarbons are stored in your body as fat but arguably this is not the most important role fats (hydrocarbons) play in your body. Aside from energy storage fats play a critical role in life. Another type of fat is a glycerol molecule (2) where two fatty acid chains are attached (3) as well as a very polar (hydrophilic) molecule called phosphate (1). These molecules are called phospholipids.
The phosphate head group of the phospholipid wants to be near water while the hydrocarbon tails do not. As such when phospholipids are put into water and stirred up they form layers where the hydrocarbon tails pack on the inside and the phosphate heads line up on the outside facing the water. This bilayer is what makes a cell. Living cells use these layers as basically skin to separate their insides from the outside. Without these fat molecules you couldn't have life.
(in this image the polar glycerol-phosphate is the red circle while the hydrocarbon chains are the two squiggly lines)
Thinking about fats in terms of macros though we are thinking about them as sources of energy so we are talking about triglycerides. When utilized for energy those fatty acid chains are broken down in an oxidation reaction that combines oxygen with the hydrocarbon chain to break it apart releasing energy and forming carbon dioxide and water.
Methane being the simplest hydrocarbon the reaction would look like this:
This reaction is carried out by enzymes in your body. Each step releases some energy which is either captured in energetic bonds of adenosine triphosphate (ATP) molecules (lifes universal energy currency molecule) or released as heat. You breath in oxygen to run the reaction and breath out the waste product carbon dioxide.
As you will begin to see as complex as the biochemical pathways are for the metabolism of the wide variety of potential food molecules they all boil down for all macros into this basic oxidation reaction: Energy molecule + oxygen goes to Carbon dioxide plus water plus released energy.
This reaction, by the way, is the exact same oxidization reaction carried out when you light something on fire and it burns. The energy in that case comes out as heat. In fact one way of measuring the energy content of a fat molecule (or any energy molecule) is to burn it in a contained vessel and measure how much energy is released by burning it within that vessel and using the trapped heat to heat up a known quantity of water. The amount of energy can needed to raise the temperature of one liter of water by one degree Celsius has a name, it is called one Calorie.
Fats (triglycerols) have a energy density of approximately 9 Calories for every gram of fat. What that means is if you burn 1 gram of fat and capture all of the energy to heat water you could heat 9 liters of water by one degree celsius (or 1 liter of water by 9 degrees celsius). So in terms of nutrition and energy fat you consume that is used for energy production can be thought of as a macro that gives 9 Calories for every gram you consume. That energy is mostly captured in ATP molecules that can then be used to help power the various functions of your body. The remaining energy released as heat helps keep your body running at the warm 37 degrees celsius it requires to function.
Replies
Categories
1.4M

Health, Wellness and Goals

98.7K

Social Corner

2.6K

MyFitnessPal Information