Help training for half marathon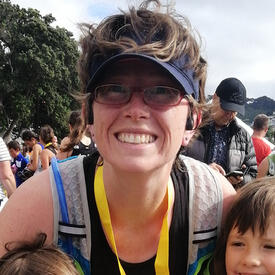 I am a regularish runner - I run +/-8km on the weekend, and around 4km most week days. I am doing a half marathon in November, and have 20 weeks to train properly. I did one years ago I didn't train for and always regretted it. My goal is to run the whole half (allowing for needing a toilet break and re-tieing shoes lol)

I have a 12 week training program I am keen to try, and will leave a few days after the training program to rest and have gentle runs in. that leaves me 7 weeks. Would I be best starting the training program now? its winter so I can see needing to rest a few times for illness (2 kids so avoiding colds is almost impossible). or just increase the length of my runs for the next couple of weeks then pick it up?

Ive done well to keep my pace at a good pace recently - aiming for 6:45 min/km which works well for me. I have managed to run 10k straight once, a month ago (have been sick a lot since then so haven't ran much in the last 3 weeks). the other option I was thinking of was I have a 10k training program, and I could jump in half way through that for a few weeks then start the half marathon training.

Tips, advice? Am I thinking too much about this? lol.
Replies
Categories
1.4M

Health, Wellness and Goals

98.8K

Social Corner

2.8K

MyFitnessPal Information