My Success Story F/26/5'7" [200lbs > 135lbs = 65lbs] (20 months) Pics Inside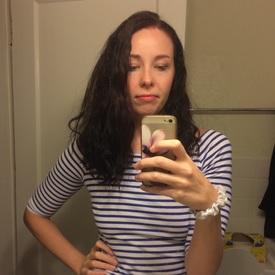 Since childhood, I have ranged from being slightly chubby to nearly obese. I was a very active child, however did not have the healthiest diet and had an unhealthy relationship to food in which I used food (mainly carbs and sugar) to cope with my emotions. In high school I got down to 135 lbs. following a vegan diet, however by the time I was 25 years old I was up to 200 lbs. After a blood test that signaled that I had some liver damage, I was referred to a liver specialist doctor who told me I may have a fatty liver, and that I just needed to lose weight to correct it. I had always exercised, running and weight lifting (but was not very knowledgeable about how to do it effectively) but was just eating too much. I tried several different diets before trying CICO (paleo, AIP, etc). I started counting calories in February 2018 and my weight started going down, and I haven't stopped since.
I have lost weight at a rate of about 0.5 lbs. per week. I am currently 135 lbs. and am just about to my goal. I want to lose about 5 more pounds or so, before I try and gain more muscle.
Throughout this weight loss I have also grown in my strength training. I've done a lot of researching and have learned a lot, and weight lifting has become my new passion that I know I'll continue to grow in. For now, I am just a beginner, but I love lifting and feeling strong.
I'm so happy to finally be healthy and fit. I feel more like me, and accomplishing this goal as taught me so much. It has taught me the value of patience, dedication, consistency, hard work, and discipline. It has taught me to defer my pleasure right now for more lasting pleasure later. I've learned to better cope with emotions without abusing food and my body. I've learned compassion for those who are overweight, and also compassion for myself. I still have a lot of healing to do, but now I'm armed with the confidence that I can find a way to achieve my goals, even if it takes a little while. I know that what I do everyday does matter.
If I can do it, anyone can! I know everyone says that, but it's so true. You just have to believe you can, want it, and work for it say in and day out. We all have that drive inside of us, we can all tap into that, yes it takes effort but truly anything worth having is worth fighting for. This journey was a blessing in disguise, and I know I'll uncover more of the blessings as I continue to work on being a healthier person.
Thank you My Fitness Pal! I've found so many inspiring people here, and I truly appreciate the opportunity to be a part of the community.
Replies
Categories
1.4M

Health, Wellness and Goals

98.7K

Social Corner

2.6K

MyFitnessPal Information
Do you Love MyFitnessPal? Have you crushed a goal or improved your life through better nutrition using MyFitnessPal?
Share your success and inspire others. Leave us a review on
Apple
Or
Google Play
stores!