I have been maintaining graphs of my weight since I started in MFP in December 2010. If there was any group that would find this to be interesting, I thought it would be this one.
Below is a graph of all my data from beginning to now:
In 2017, I got even more scientific, corresponding the slope of my trend line to my net calories on MFP. It was awesome how much things lined up:
In 2018, I started a new job in sales and it wrecked me health wise. I still tracked my weight, but I did not have the habits to be successful with the new lifestyle of eating out a lot and travelling:
In 2019, I figured out a way to create statis with my diet with all the travelling and eating out, primarily around balancing big eating out and drinking events with fasting stretches. When I picked up exercising, things went great. I also decided to start adding bars to show my vacation (yellow bars) and business trips (grey bars) to see how they affected me: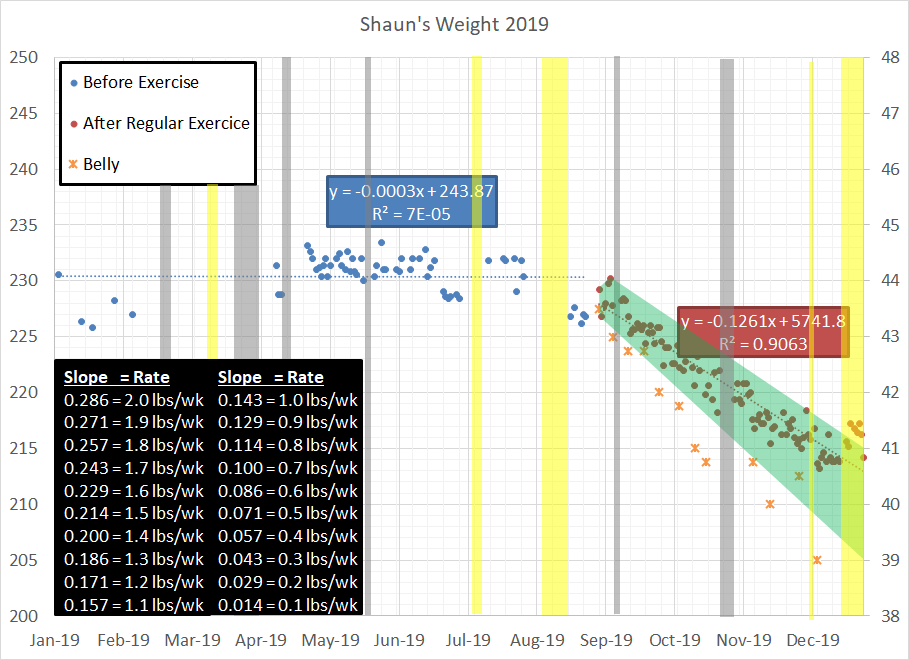 In 2020, I know I will be closing in on my target weight. I was able to use the formulas for TDEE to figure out how much weight loss would change if I maintained daily 1,600 and 1,800 NET calories per day. The green band shows the upper and lower limits of that.
Hope you guys find this cool as I did. I hope that some people who maybe only weigh themselves once a week or month see how much I bounce around, but can still manage a negative trend. It should reassure you that a single negative or positive weigh in could signal a lot of things.