[365-day streak] My Most Effective Recipe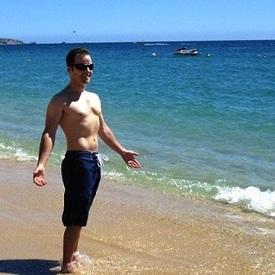 Hi pals! I just passed the 365-day mark for logging every bit of food and exercise, and it's been a successful year.
I want to share the recipe I've come up with that is my favorite for three reasons: (1) it actually tastes good, (2) it's efficient for the amount of calories in a serving, and (3) it keeps me full for longer than any other meal of equal calories. And it's practical: it's easy to make a huge batch, and it freezes well and reheats well. I've made it public in the recipe database. Hopefully someone else out there might find this useful in their calorie-counting battle
Ryan's Mexican Rice & Beef
1 cup Brown Rice (dry)
1 cup Beef Broth
1 lb 91% Lean Ground Beef
1 tsp Olive Oil
1/2 large Yellow Onion, diced
1 tbsp Minced Garlic
1/2 can Diced Tomatoes
1/2 can Tomato Sauce
1 can Corn
2 cups Salsa
1 tsp Seasoning Salt (like Tony Chachere's)
1 tsp Ground Black Pepper
1 tsp Paprika
In a large pot, bring simmer rice in 1 cup beef broth and 1 cup water for 45 minutes.
While rice is cooking, brown beef in a large pan, then remove beef and set aside. In the same pan, heat olive oil and sautée onions for 8 minutes; add garlic, and cook 2 more minutes. Combine with beef and set aside.
When rice is finished, add the beef, onions, tomatoes, tomato sauce, corn, salsa, and seasonings. Mix and simmer in the large pot for 15 minutes.
Makes about 8 cups, each about 225 calories. Freezes and reheats well. Tastes great with melted cheddar cheese on top.
Replies
Categories
1.4M

Health, Wellness and Goals

98.5K

Social Corner

1.7K

MyFitnessPal Information