Mud / Obstacle run training suggestions?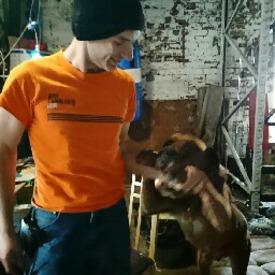 Been meaning to do one for a while and found there's a 12k / 50 obstacle in a month that would work for me as I have to pop over to my mum's place and it's half way there.

Not done much running recently, so that's an obvious start.

I also do the following every other day, exercises spread across three sessions - Squats, bench press, dead lift, barbell row (because my power clean form sucks), weighted dips, weighted pull ups, overhead press.

I've been meaning to do some rock climbing too anyway, which should help grip strength etc.

Other stuff worth practising? I don't have access to a gym - working away in my motorhome, but do have an Olympic barbell set with rack and bench and happen to also have a 3 segment ladder (brought down for the work on my mum's place), which I use for pull ups leant against the motorhome.
Was thinking I could try and get the ladder setup so it's a bit longe against a tree or something and use as 'monkey bars'. Also, lying on the floor but vertical, to practice balance - might see if I can setup a slack line with some tiedowns?

Any other thoughts?
Replies
Categories
1.4M

Health, Wellness and Goals

98.7K

Social Corner

2.6K

MyFitnessPal Information