Time makes all the difference
In September of 2012 my family went to visit friends in Germany. To make a long story short one of the things I couldn't do on that trip was hike up the steep mountain at Neuschwanstein to make our tour on time. Later that day the left picture was snapped after crossing over into Austria and having dinner at the foot of Zugspitze. I think that was the beginning of the end of being overweight. I had walked all over Germany and England on that trip and came home 12 lbs less. By Christmas I'd gained that 12 back and it didn't take a genius to figure out that walking had made the difference. I started regularly walking in February 2013 and by June (the middle picture) I had lost 34 pounds for vacation. My walking turned to running and by this year's vacation last month (June 2014 picture on the far right) I had become 70 pounds lighter. I hope each vacation from this year on out finds me faithfully maintaining what the last 500 straight days of logging has given me....thank you MFP.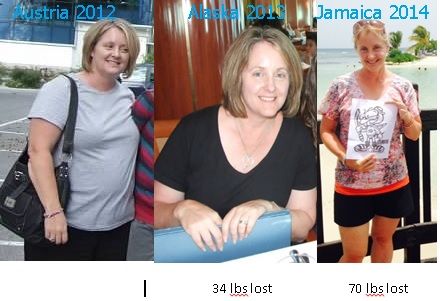 Replies
Categories
1.4M

Health, Wellness and Goals

98.8K

Social Corner

2.8K

MyFitnessPal Information
Do you Love MyFitnessPal? Have you crushed a goal or improved your life through better nutrition using MyFitnessPal?
Share your success and inspire others. Leave us a review on
Apple
Or
Google Play
stores!