U HAVE TO READ THIS...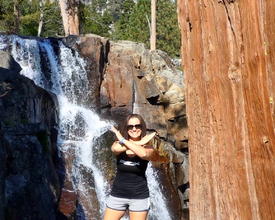 OMG you have have to read this....I am in total shock over this article
:noway:
This is why I am a water drinker, always have been, always will be. Getting a mocha from StarBucks is a special treat. A special treat I will only have after a long morning bike ride....NOW I KNOW WHY I made that rule to myself!!!
ARE YOU READY FOR THIS?????
Kelly
p.s. wait until you get to the last one....HOLY CRAP!!!!
Americans have a drinking problem, and not the type you might think. After posting a blog a few weeks ago called "Belt-Busting Beverages," we received hundreds of comments from the Yahoo community claiming they had no idea the stuff they drink could be so hazardous to their waistlines.
Here's a typical refrain voiced by one disturbed drinker: "I know a lot of people that are battling with their weight, and they tell me all the time, 'I don't eat that much, and I still can't lose weight.' "
Whether you are a desperate dieter or just someone looking to drop another few pounds in time for beach season, here's a tough stat to swallow: According to the FDA, the average American takes in 82 grams of added sugars every day. That's 20 teaspoons, which contribute an empty 317 calories to our already calorie-saturated diets.
Sure, some of that comes from soda, but even if you've traded regular Coke for diet, whole milk coffee drinks for low-fat lattes, and you barely touch the booze, you could still be taking in 20 percent or more of your calories from beverages. Add a few of those other indulgences in — or consume one of the liquid disasters listed here — and you can suddenly be sucking in a few days' worth of calories through a straw!
(You read that last sentence right.)
To give you a better idea of the drinks most responsible for sabotaging your health, fitness, and weight-loss goals, we created a list of America's Unhealthiest Drinks. Read up, then sip responsibly.
Worst "Healthy" Drink
Glaceau VitaminWater (any flavor; 20 oz bottle)
130 calories
33 grams sugar
Vitamins and water might sound like the ultimate nutritional tag team, but what the label doesn't say is that a bottle of this stuff carries nearly as much sugar and calories as a can of Coke. Makes sense, though, since this so-called functional beverage is produced by our often-sugar-crazy friends at The Coca-Cola Company.
Worst Juice Imposter
Arizona Kiwi Strawberry (23.5 oz can)
360 calories
84 g of sugar
These hulking calorie cannons (5 percent juice, 95 percent sugar water) are sold at gas stations and convenience stores across America for the low, low price of 99 cents, making this quite possibly the cheapest source of empty calories in the country.
Worst Smoothie
Jamba Juice Peanut Butter Moo'd Power Smoothie (30 oz)
1,170 calories
169 g sugars
30 g fat
Jamba Juice calls it a smoothie; we call it a milkshake, with more sugar than an entire bag of chocolate chips. (Note: We're pretty sure this is the drink Hollywood actors rely on when looking to put on 20 pounds for the role as a heavy!)
Worst Summer Cocktail
Pina Colada
625 calories
75 g sugars
Made from a blend of sickly-sweet pineapple juice and fat-riddled coconut milk, pina coladas may be this summer's biggest beach-body saboteurs. In fact, the only redeeming part of this drink is the garnish — that lonely chunk of pineapple hanging from the rim. Try a lime daiquiri or a mojito instead and save up to 400 calories a drink.
The Unhealthiest Drink in America
Baskin Robbin's Large Heath Bar Shake (32 oz)
2,310 calories
266 g sugar
108 g fat (64 g saturated)
Let's look at America's Worst Drink in numbers:
73: The number of ingredients that go into this milkshake.
66: The number of teaspoons of sugar this drink contains.
11: The number of Heath Bars you would have to eat to equal the number of calories found in one Baskin Robbins Large Heath Bar Shake.
8-12: The average number of minutes it takes to consume this drink.
240: The number of minutes you'd need to spend on a treadmill burning it off, running at a moderate pace.
Replies
Categories
1.4M

Health, Wellness and Goals

98.7K

Social Corner

2.8K

MyFitnessPal Information