MY CRAZY LIFE.....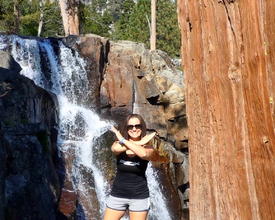 I need balance.....
This past month has been so crazy. I need to get back to my normal routine before I freak out
:explode:
It all started with the weather going wacko here in Cali. we went from 70 degrees to 100 degrees over night with winds of 20-30 mph for almost 2 wks straight, then back to 70 degree weather and raining...HOLY CRAP!!! ENOUGH ALREADY!
I haven't been able to ride my bike hardly at all in the past 3 wks...I'm getting so frustrated!
:grumble:
To add to my crazy month....
My middle child started baseball. Don't get my wrong I LIVE for baseball and watching my kids do what they love....priceless
:happy:
So baseball changed my gym schedule a bit. Practice nights I run at the high school, but game nights (2 nights a wk) I don't get a workout in at all.
Now this week....
My son has his 8th grade promotional ceremony tomorrow (aka 8th gr graduation). Today I had a bunch of errands to run for the post grad party and tomorrow is going to be nuts. I still have to work part of the morning...aahhh! I have gone 5 days without working out...NOT LIKE ME AT ALL!!!!
But I'm so EXCITED about my son's promotion. I'm extremely proud of him and his hard work this far.
It's a bitter sweet situation for me. My daughter in the same grade isn't graduating (that's a whole different story) I have that stress, frustration on top of all the other stuff going on. I'm trying really hard not to let anyone know how upset I am with her...uuuggggg
:ohwell:
It's a sad thing and she doesn't have a clue I swear
:frown:
ANYWAYS!!!!!!
On a more relaxing note....
Vacation is 2 wks away...YEAH!!! It will be a solid week of cycling and chilling with my hubby on the coast in Monterey
:bigsmile:
Thanks for listening to me vent...I needed it
:ohwell:
Replies
Categories
1.4M

Health, Wellness and Goals

98.8K

Social Corner

2.8K

MyFitnessPal Information