I love being on vacation..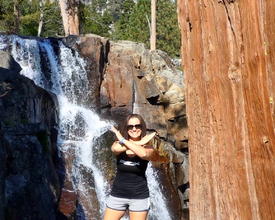 We just got back from a 8 mile walk from the Naval Postgraduate School to Gianni's Pizza (best pizza in Monterey....hell the best pizza period).
After pizza we decided to walk to the Berwich Park where we got married 4 yrs ago. I wore my pedometer so I could track.
We ended up walking...
8.32 miles, 18,844 steps and according to the pedometer we burned 645 calories.
To add to it we went for a 41 mile ride this morning...gggeezzzzz! I'm going to be sore, but it's not going to stop me from doing it again tomorrow
:bigsmile:
I'm definitely not feeling guilty anymore about eating 2 generous slices of veggie pizza tonight. I'm thinking I burned at least one of them off on the walk alone.
I am so determined to get past my funk and start losing again. This week should do the trick
:happy:
Woo Whooo Happy Days,
Kel~
Replies
Categories
1.4M

Health, Wellness and Goals

98.8K

Social Corner

2.8K

MyFitnessPal Information