Hiking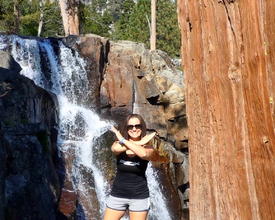 OMG I have to start off by saying, yesterday's hikes in Big Sur were AMAZING!
I am a passionate cyclist, but love the wilderness. I grew up with a father that flew helicopter for a logging outfit, so growing up the woods were pretty much my playground.
Anyways last year I finally got my husband off the bike and into some hiking boots. Together we have only hiked the Tahoe Rim Trail. We love hiking up there. It is so breathtaking and rewarding once you see the lake views. Our longest hike on the TRT was 18 miles. This is just give you and idea how much more challenging the Big Sur hikes are....
Yesterday we went up to Julia Pfeiffer Burns State park and hiked a few of the small trails to see the falls. Then we did the 6 mile loop up to the top of the canyon that looks down onto the Big Sur Coast. Let me tell you TRT didn't have crap on the strenuous level of this 6 mile loop. We had some challenging climbs up steep-sided canyons, over rugged hills, there were amazing redwood trees and a fast flowing stream that we fallowed most of the hike. Then it opened up to a meadow that over look the ocean.
I can't even put into words how beautiful it was at the top. It was like finding the pot of gold at the end of the rainbow.
After that trail we went over the the Big Sur State park and hiked another 1.5 mile hike to see the Pfeiffer falls. I seriously was worn out by the time.
When we come back in July we plan to do the longer hikes that are considered the most challenging, strenuous ones up here....WOW WHOOOO!!! I can't wait! I think one is a 26 mile loop...aaawwww! I may stick to the 8.5 one first hahhah!!!
because I am soooo sore today LOL!
We are going to walk down to the down town area in Monterey today, but I still plan to get at least 10 miles in on the bike later once the muscles are warmed up hahahha! Shot at that point I may even go for 20....aaawwwwww!! LOVE IT!!!
Ok so I had to share my amazing experience with you all LOL!
If you are interested at all I have pictures of all my hikes in my MySpace albums. I have it off private if you want to check them out.
http://www.myspace.com/norcalgrllvsathletics
Have a great day my MFP
Kelly
Replies
Categories
1.4M

Health, Wellness and Goals

98.7K

Social Corner

2.8K

MyFitnessPal Information