Should I feel guilty?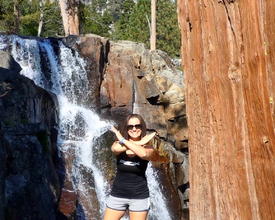 Should I be feeling guilty? I had Mexican food and a bowl of Ben and Jerry's Lighten up Cookie Dough.
The Mexican food is something we do from time to time, but ice cream...NO! I can't remember the last time I had a bowl of ice cream???
I figured I burned a group of calories this week I'm giving myself a much deserved treat.
I labeled today, "My Free day Friday"
So get this....
:happy:
My exercise goal I have set for myself is to burn 2300 calories a week. This week with two days left to track I have already burned 7700 calories... I am so stoked I can't even tell you how much I want to be on vacation every day of my life. We leave to head back to the Sac Valley Sunday
:frown:
I can't wait to come back at the end of July. There is so many more miles of road to ride and many, many more trails to hike.
Kel~
p.s. This is for the hikers out there. We did the Point Lobos State Reserves today...WOW! They are just walking trails, but AMAZING! It just gets better and better. California has so much to offer and so many hidden treasures! I LOVE IT!!!!
Replies
Categories
1.4M

Health, Wellness and Goals

98.7K

Social Corner

2.8K

MyFitnessPal Information