Scary Bee Sting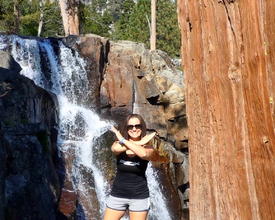 OMG get this. One of the Podiatrist I work with was telling us a story about his bike riding/bee sting experience this past week. He is into cycling like my husband and I. I guess he rides around 50 miles or maybe even more, a few nights a week....he's a little more insane than I am.
:laugh:
Anyways...
The other day when he was riding a bee flew into his helmet and stung him on his head. I guess this has happened a few times before and he was okay, but not this time. He ended up having a severe allergic reaction. Did I mention he was all alone riding on back country roads.
He did have his cell phone and was able to call 911, but he started to go into anaphylaxis shock, he couldn't breath, his heart started racing, he was throwing up, he became delirious that he couldn't even direct anyone to where he was.
Believe it or not a car finally drove by, but DIDN'T stop...can you believe this?
Well I guess the guy in the car came to his senses and figured it wasn't normal some guy was on the side of the road, in nice bike clothes, waving down help. So he actually turned around and went back. Thank god! The guy in the car managed to call help and he saved our doctor....how scary huh?
:sick:
Makes me want to carry benadryl with me on my rides and hikes for now on....call me paranoid, but you never know.
Kel~
Replies
Categories
1.4M

Health, Wellness and Goals

98.8K

Social Corner

2.8K

MyFitnessPal Information