20 yr reunion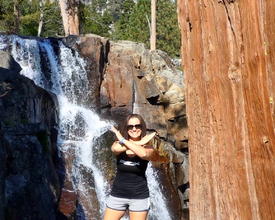 Ok so we here there is going to be a 20 yr reunion and what do we do....WE FREAK! Spend endless months trying to prepare to look somewhat decent or the unrealistic thinking, I am going to make myself look as skinny as I was in high schoo! YEAH sorry to burst your bubble, but NOT HAPPENING!
:ohwell:
Well this weekend was my 20 yr . (ok 18 yr) but it was a combined classes of 87, 88, 89, and my class of 1990. We were a very small, small school and very close to each other. Some of us still are! GOOD GOD that brought on more pressure to look my best!
Anyways....
I got the invite back in Feb. so I set out to lose 20 lbs. before the day came. Plenty of time right?
Well as you can all see from my progress I only lost 5 lbs. (as much as I kill myself with exercise and good eating) I was so disappointed in myself and almost didn't want to go because of it, but what a silly, vane reason! GET OVER MYSELF...RIGHT? GEEZZZZ! LOL!
:laugh:
So throughout the night my best friend (who also went to school with all of us) said, everyone was telling her all night Kelly looks so good and I even got a few compliments myself.
I told my husband people usually just say those things to your face and they're just being nice, but to say that to someone else...okay maybe I don't looks as bad as I thought?
:happy:
I even saw my
"first love'
I hadn't seen him in 15 yrs and he told me a few times through out the night how great I looked. I think he even said, I looked the best he ever seem me look.
:blushing:
This is coming from someone who I was sleeping with back then hehehe!
:bigsmile:
It turned out to be a fantastic night and the family picnic was so much fun too!
So whatever you do don't skip your reunion because you never know!
:bigsmile:
Kelly!
:flowerforyou:
Replies
Categories
1.4M

Health, Wellness and Goals

98.8K

Social Corner

2.8K

MyFitnessPal Information
Do you Love MyFitnessPal? Have you crushed a goal or improved your life through better nutrition using MyFitnessPal?
Share your success and inspire others. Leave us a review on
Apple
Or
Google Play
stores!