Fartleks - speedwork 101 for new runners
Fartlek is Swedish for speed play. Quite simply it is a great way for new runners to start incorporating speedwork into their training. The best part about fartleks is that they are totally free form.
Once you are warmed up and running along at an easy pace, it might look something like this:
run full blast to the stop sign on the corner
easy pace to the big tree
medium pace to the blue truck down the street
easy pace to the street light
full blast to the gas station
You get the idea. No set time or distance at any given pace, just play it by ear and you mix up your paces. You can alternate pace by houses, telephone poles, trees or anything. You can probably do the same thing on a dreadmill, just by randomly messing with the speed a bit.
By way of contrast, intervals (in terms of running training) are usually very specific as to the distance, number of repeats and rest or jogs between intervals. You might run 7 x 1/2 mile repeats w/ 90 second jogs in between or 3 x 1 mile repeats with 2:00 jogs (or one lap) in between.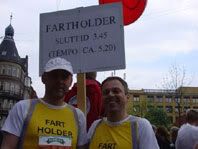 Replies
Categories
1.4M

Health, Wellness and Goals

98.7K

Social Corner

2.6K

MyFitnessPal Information