Heart Rate Connundrum - Can't get it up (even in Intervals)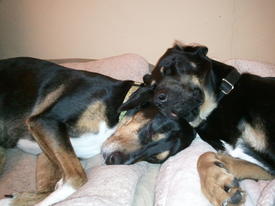 Background:

I'm a long time runner (off and on, mostly on, for 20 years). I'm 32yr old, female, a very healthy weight, and have been running ~20-40 miles a week for the past 9 months (averaged ~20 miles a week for most of my life). My resting heart rate is, and always has been, between 52-60 bpm. My pace depends on the distance, but for a 5k I like about 7-8 minutes a mile, and long slow distances are 10-12 minutes a mile. I figured that means I'm healthy, but now I'm wondering.

Heart Rate Monitor:

I used a heart rate monitor to do a 1 hour Lactic Threshold Heart Rate test about 10 years ago, it was ~178-181. This seemed to jive with my fitness level. Fast forward 10 years, and I've recently picked up a garmin 310xt to help with my long runs (I like to get lost, until the end of the run when I can't get home). I'm a comparable fitness level, but even during intervals, I can barely get my heart rate over 164. Charging as fast as I could up a super steep, quarter-mile long hill, I hit 171 near the top. I also thought my arms and legs were going to fall off, though my heart never felt like it was pounding at all.

Questions:

1) Yes, I'm 10 years older, but does that really translate into a 10bpm drop in lactic threshold heart rate? If the trend continues, in another 20 years my lactic threshold heart rate will be below my current 5k racing heart rate (~150bpm)? What?

2) Assuming my max heart rate is up where it should be, around 190, why can't I get my heart rate up above 170? Have I spent too much of my life eschewing intervals in favor of long slow distances, and thus my heart is healthier than my arms and legs? I'm hoping this is the answer, just "do more intervals", but I never used to do intervals and could get my heart rate up just fine.

3) Non-fitness, non-age factors that I could find were things like bradychardia (but I thought that affected resting heart rate too, mine is normal), and beta blockers (I don't take them). I'm not on any meds, never had any gland or hormone disorders, and honestly feel pretty darn terrific (excepting a new, slight anxiety over the heart rate).

So what's up with that? My heart rate for distance runs appears very healthy, as does my resting heart rate, so I'm really confused as to why I simply can't get my heart rate up.

Any ideas would be helpful.
Replies
Categories
1.4M

Health, Wellness and Goals

98.7K

Social Corner

2.6K

MyFitnessPal Information