Cycling and (lack of) Daylight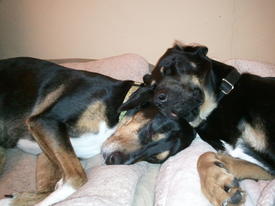 Question for all the cyclists out there...

I saw the December cycling challenge, and kept thinking to myself "but when do they bike?" I have a lovely headlight, but have been off the cycling wagon for a while and biking in the dark on streets is intimidating enough that I won't do it. So I've been a bit of a weekend warrior, using my bike as cross training for my running.

With the daylight hours so short, and the workday so long, is everybody biking at lunch? Or is everybody just fine with the dark? Some of the trails I like are clear enough to bike at night, but are technically "closed"... I often ignore that but wonder if that's wise (it's also not very practical - there are few destinations at the ends of these trails so they're not great for erranding). The scariest things I've encountered on a trail is deer, which will definitely end my ride quickly and badly, but we (the deer and I) have so far been nimble and smart enough to avoid each other.

I hate the idea of "hanging up the spokes" for the season, yet am finding that's virtually what I do every year. The cold I can manage, the ice and snow (if we ever see it again) I'm also ok with. The dark is what gets me.

Anybody else overcome a fear of the dark?
Replies
Categories
1.4M

Health, Wellness and Goals

98.7K

Social Corner

2.6K

MyFitnessPal Information