91 pound weight loss (with pics!)
I joined MFP on my 58th birthday in Dec 2009. I weighed 242.5 pounds. By August 2011, I was at a healthy BMI of 154 pounds. In 2012 I took up running and a year ago weighed 144 pounds. Then I developed plantar faschitis, quit running, took up weight training and stationary rowing. Now I weigh 152 pounds and I'm in the best shape of my life for the second year in a row.
This was my post of two years ago of how I did it:
http://www.myfitnesspal.com/topics/show/314505-success-before-sixty
This was my post of last year on what I didn't do:
http://www.myfitnesspal.com/topics/show/707622-how-i-did-not-lose-98-pounds
And this is my blog post of pictures from as far back as when I was 11 years old:
http://www.myfitnesspal.com/blog/JeanneTops/view/official-135794
I'm posting here especially to say to those of you who have a lot of weight to lose, who have lost and regained it over and over again and/or who are worried that you're too old to do it again.
You can do it but you have to believe in yourself. I didn't believe I could do it when I started but I did think I could do it for one day. So I focused on just today and I've been focusing on just today ever since.
After two years, I'm just starting to learn what maintenance means. I've had my problems this year: my foot problem, my mother's illness, a couple of major bingeing episodes and some great vacations. I haven't gone over a healthy BMI because I have a great support group here to whom I could confess the eating problems, who inspired me to find new exercise routines, who care enough to listen and whom I care about and with whom I want to be honest.
Now I'm learning that I have to work on my own self-image. I worked hard to stop seeing myself as a fat person, now I have to work hard as seeing myself as someone who always eats responsibly - through vacations, celebrations, trips, injuries and assorted stressful times. I still log everything I eat, I still weigh myself daily, I probably always will. That's ok because, as I've said elsewhere, it's a small price to pay to feel as good, and as good about myself, as I do now.
Here's just my face from my Dec. 2009 birthday and today: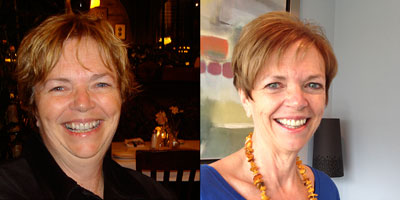 Remember: just take it one day at a time.
Best of luck to you all,
Jeanne
Replies
Categories
1.4M

Health, Wellness and Goals

98.7K

Social Corner

2.6K

MyFitnessPal Information
Do you Love MyFitnessPal? Have you crushed a goal or improved your life through better nutrition using MyFitnessPal?
Share your success and inspire others. Leave us a review on
Apple
Or
Google Play
stores!