ripped in 30 blues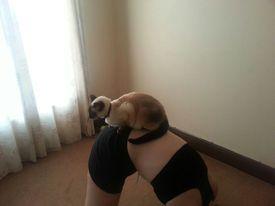 Hi, my name is Misty and I'm a Jillian - o - holic.......

I completed 30 day shred and had pretty cool results. It was a case of struggling for the first 4/5 days then by the end of the level being able to feel ready to move to the next level. Before and after photos showed a marked difference. I was on a high from the success and was hungry for more!

Ripped in 30 however.....level 1 I felt pretty ok with, level 2....I struggled to do over half the moves! So I skipped it and moved on to level 3. Now, I can do 90% of the moves (mostly modified), but while I feel the burn on some (duck walk/bear crawl), on others I wonder what on earth is going on as I don't have sweat dripping off my face like before and I don't think its due to lack of effort.

I am confused by my lack of feeling like I have exercised successfully and productively and I am worried I won't see any visible results at the end because I may be half-assing it (although I really am putting in the effort!) Will you still see results if only doing what you can?
Replies
Categories
1.4M

Health, Wellness and Goals

98.8K

Social Corner

2.8K

MyFitnessPal Information