Taking A Chance On Something That Is Too Small
Most of you know that I have been shrinking out of my clothes at a outrageous rate. This photo below shows me just 2 weeks ago. The size 16 blouse is huge. The size 16 pants are definitely baggy. Yes. I knew, it was time to order in some smaller size clothes again.
I did order some smaller tops, a skirt, a dress jacket...and even a couple pair of size 14 pants the other day; but today, I did something really bold. I really undersized my latest order for clothing.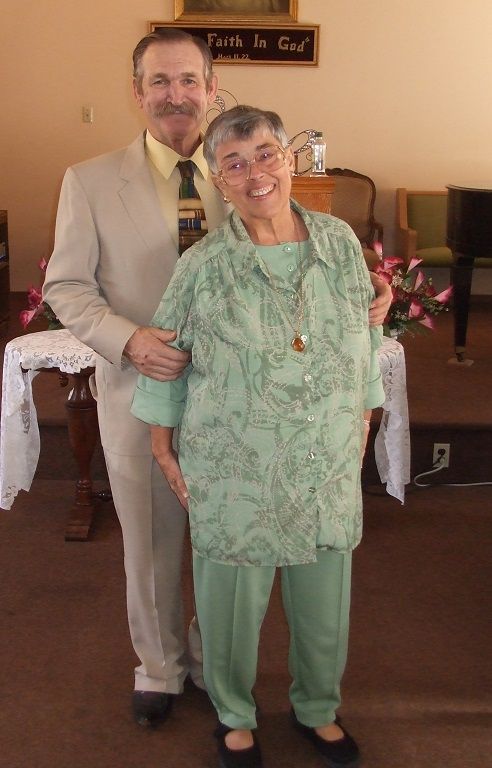 Ed took this photo of me in one of those new size medium tops, just this morning; and the top shows just how much weight I have lost in my tummy and hips. The pants are 16's and still baggy, which does not let you see that my legs have gotten very skinny. This is evidence that the new size 14's pants may not fit for very long. In fact, they may be too big even now; but we will see.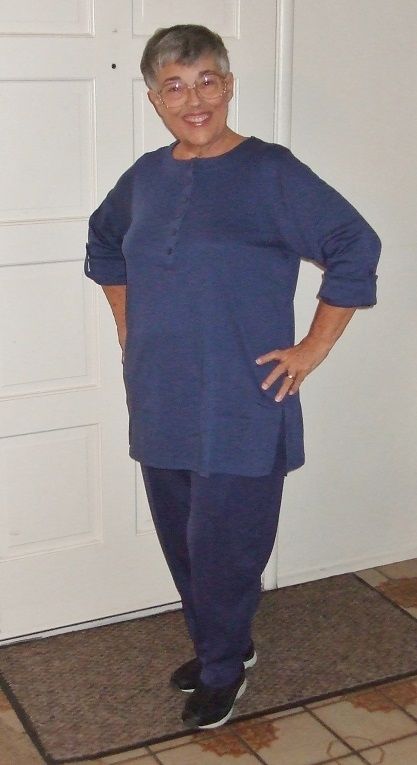 For months now, I have been ordering most of clothes from Woman Within. I love this large lady's catalog company. Their clothes are wonderful, well-made and flattering to larger figured ladies. I absolutely love their Necessities Only pants, which wear so well and feel so good; but I have A BIG PROBLEM.
Woman Within DOES NOT carry smaller size clothes. Knowing that I will need new pants in a smaller size, I took a chance. I ordered 8 pair of Necessities Only pants in the last size available to me...SIZE 12. Now, understand this. I don't believe that I am a size 12...not yet; but I decided that it was time to be courageous and buy 'those smallest size' pants from Woman Within. They were on sale; and I have no doubt, I will need them soon enough.
My first thought was, "Get 'em on sale, hang 'em in the closet, and wait for the day in the near future, when you can wear them. You might not get the sale price or the color selections you want later."
Size 12 has a special meaning for me. My Mama was a skinny lady who wore a size 10/12, when I was growing up. Her chubby daughter Sue was wearing size 16 at age 12 and size 20 by the time that graduated from high school. My sweet Mama was never overweight in her life. She really didn't understand why her eldest daughter was fat and couldn't seem to lose weight. Both my kid sisters were small to average size. I was the only fatty in the bunch. While my kid sisters got to wear stylish clothes, my stuff had came from the old ladies section of the department stores...where most of the dresses looked more like tents. There weren't any specialized stores for large lady back in 50's and 60's. I was stuck with the half size rack at Sears or Penney's.
Mama past away in 1987, but I know that she is looking down on her 'big girl' from Heaven right now and smiling, because Sue finally got down to that 'normal size girl' (albeit old girl) that Mama always wanted me to be. Both of us will be happy to see those size 12 pants hanging in my closet, until the day I can pull them on.
Yeah! Normal is really nice, after a lifetime of obese.
:happy:
Have you got some clothes in your closet that are just a bit small right now but will be fitting you real soon? Perhaps an outfit that you loved in the past...or something that you bought recently to treat yourself, when you get to goal weight.
Replies
Categories
1.4M

Health, Wellness and Goals

98.5K

Social Corner

1.6K

MyFitnessPal Information