Struggling. Anyone used Dietbet for motivation?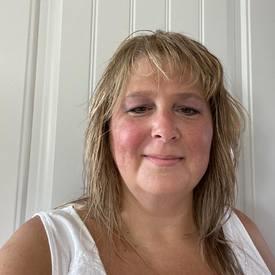 I'm on a crazy schedule right now, and am trying to figure out the best way to keep me motivated to REACH my goals. It's not that I'm not motivated actually, my life is just literally crazy/insane/busy.
No, I can't get up "earlier" to get a workout in or I just won't get even 6 hours of sleep. (I typically am getting between 6-6 1/2 hrs of sleep a night). I know, I should be getting more, but that's literally how crazy-busy it is right now for me.
I don't watch much tv (when I do, I'm multi-tasking like ironing at the same time, watching the replay of the biggest loser usually). We have one "family movie night" which is usually Saturday night, and since it's dedicated family time, (other than meals - the only set aside time) I won't interfere with it.
Not making excuses, it's just fact - However, my other days are nuts but I'm pretty sure I can now figure out a sense of routine.
YES I do reach my steps goal with my fitbit daily now, (been working on improving it so I hit daily), and for the last 3 weeks I have been. My daily routine should be levelling off this week to steady pace so I think I can finally get in gear.
So here's my schedule, and what I'm "planning":
(Two notes on this schedule:
1, I work for myself. Anyone who does knows that it's usually MORE hours than working for someone else, except I am flexible in hours/times working.
2., my daughter started college this year, and didn't get her driver's license in time... meaning for the moment, I have to drive her 45 min to college, wait for her - (which I work at this time), then 45 min home).
Mondays - up at 6:30, get my hubby off to work / have breaky same time / get started working by 7:30. Work till 11:30. Get ready / drive to college in nearby city & drop my daughter off by 1 p.m. Go to starbucks 1-4 (No, I don't get the junk coffees, I know better
I get plain tea). Pick her up from school, we're back home "usually" by about 5-5:15, depending on traffic. Evening is usually going for a 1-1.5 hour power walk with a friend. (So this day I'm pretty covered). Work time: less than 7 hours (closer to 6-6.5 of actual work time)
Tuesdays: up at 6:30, get my hubby off to work / have breaky same time / get started working by 7:30. ** Note, this is my daughter's only day off school, so I know I can fit a workout in here, I'm home for the entire day (usually). Start supper by 5, out for a commitment every Tuesday night by 7 (so basically, I'm booked off from 5 till 10 p.m.). "Sometimes" we fit in an ab workout after 10, but not always. Work time: 9 hours ideally... usually ends up being about 7-8 if I have to run out or anything.
Wednesdays: up at 6:30, get my hubby off to work / have breaky same time / get started working by 7:30. Must stop by 9-ish, get ready, get out the door before 10, get my daughter to school by 11.... turn around and come back (this is her long day - I can return home) - home by usually 12/noon. Work from 12-5... supper / get hubby back out the door by 6 - he goes to pick my daughter up, I've now got from 6-8 "free" (Usually work). Work time for the day: 6.5-8 hours ("if" no interruptions)
Thursdays: up at 5:45, out the door by 6:45-ish, driving daughter to school for 8. Reach Starbucks by 8:15, work till about 11, then pick my daughter back up by 11:15. Home by about 12:15. "IF" nothing comes up, can work from 12:30 - 5. Work time for the day: roughly 6 hours. (ideal, hasn't happened yet).
Fridays: up at 5:45, out the door by 6:45-ish, driving daughter to school for 8. Reach Starbucks by 8:15, work till about 11, then pick my daughter back up by 11:15. Unfortunately while ideally I head home, it hasn't happened yet - for the past 3 weeks stuff has been going on like crazy, but ideally it's like Thursday, home by 12:15, then can work till 5.
So - trying to fit in my workouts, Monday's I'm pretty covered.
Tuesday's I know I can fit an hour in. (I just have to do it because this day is my most focused work day, and it's really difficult to stop when it's my one really full day)
Wednesdays I need to get myself into routine to fit in an hour in probably when my hubby is getting my daughter.
Thursdays and Fridays - Was figuring I could get to a gym nearby the school so that I could get 1-2 hours of workouts in there, but so far that has LITERALLY been my only work time those two days for the past 3 weeks.
It *should* get better from now on, but here's my thing:
As crazy/nuts/busy as my life is, I know I have to get my workouts in. Frankly for the past while, my work time has been down to 3-4 hours most days, as I've had to do running around with my daughter for her classes (take her places for her to get her assignments done). Until she's driving fully, this is my life right now.
(Sorry for the long-winded post - thought it would make more sense if I posted a bit more details)
So I was thinking - from a motivation standpoint, has anyone ever tried Dietbet to help keep yourself on track?
If so, did it work?
If anyone is as crazy-busy as me (and cutting sleep is NOT an option) - got any other suggestions?? It seems like every time I plan on something, it just doesn't happen - or because other stuff gets in the way (like car breaking down/dealing with stuff like that as well), sometimes I'm just too wiped at night to try to fit in a workout. And while I should be "able" to work by looking my schedule for about ___ hours, frankly it's been UNDER 29 - on a good week lately. I just can not go lower, I'm already behind (and yes, I have staff that can help - but they can't do some stuff I do).
I'm sorry if this sounds like I'm making excuses, I'm really seriously trying to figure out something that works.
Oh - and food wise, while I could have some tweaks (hard being allergic to fresh fruit/vegies) - we DON'T eat out, I DON'T eat fried crap, I'm ALWAYS under my calorie goal 6 days a week (I let myself fluctuate on the 7th, but often still stay within my calories - ranging from 1450-1850) - so it's not so much food, as it is moving I need to focus on, I know that.
Been to a doctor (specialist), can't find any "reason" for my weight going up and down like a yo-yo within 5 pounds constantly (it's all in my head, but I won't even go there with issues right now, in short - female stuff that they admit is happening but can't find any reason for (which I'm sure is a big part of the issue), but according to them I'm perfectly healthy even though they admit my issue is real!!! (YEAH NOT)).
Anyway - I know my biggest thing to get results is I need to move more (I sit at my desk for work, too sedentary), and was thinking "maybe" dietbet might be a thought to try?
Pretty much at my wits-end here. (And yes, I've tried some challenges here, last one I actually GAINED 3 pounds on, and missed reporting because the cut off was odd).
Replies
Categories
1.4M

Health, Wellness and Goals

98.5K

Social Corner

1.7K

MyFitnessPal Information