First Marathon Sunday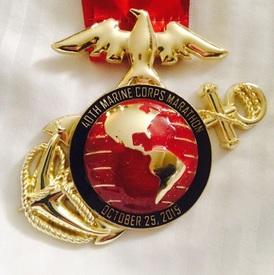 In 2012 I was 50 pounds overweight. From the extra weight my knees hurt all the time. I decided that my running days were over. Then I discovered MFP.

I did MFP pretty consistently and worked out hard - mostly on an elliptical that was pretty kind on my knees. As the weight came off, I decided to try running again. I did a run-walk program to gradually built up to running 30 minutes nonstop.

After losing over 40 pounds, I was running regularly and feeling great. I did a 5K "color run" and felt strong - I had to force myself to walk through the color stations because I just wanted to run.

In September 2013 I ran a 6-mile leg of a marathon relay and really enjoyed it. In October I ran my first half-marathon since returning to running and surprised myself with a PR under 2 hours. On that day I decided to tackle a goal that seemed so impossible just a short time before: run a marathon.

It has taken me 3 years to get to this point, but on Sunday I'll run the Marine Corps Marathon. I've done the training and am ready. I feel so good coming out of the training that I'm already thinking of future races I can do.

If you're just starting this process, don't think about you can't do. The human body is amazing - you are capable of so much more than you realize. The key is getting your mind in the right place. Once you decide what's really important and make that decision to get in shape, there is literally nothing you can't do.
Replies
Categories
1.4M

Health, Wellness and Goals

98.4K

Social Corner

1.1K

MyFitnessPal Information