Stomach-friendly foods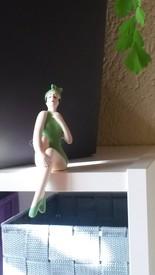 What kind of foods do you eat when you know you have to eat but your stomach disagrees with you? Preferably simple to prepare.
I am hungry but I have no appetite (if that even makes sense) and I'm getting honestly tiered of my usual standbys and I'm not feeling particularly creative:
- chicken broth (instant so quick to make) with a type of cracker found here (a kind of double baked, white bread that's very easy on the stomach)
- plain white rice with plain white yogurt (unsweetened)
I'm recovering from a migraine attack (Friday) with a blocked muscle added in for the fun of it (since Tuesday). Between the pain, the medications (pain meds, muscle relaxants, anti-acid and anti-nausea meds to keep the first two down) and my monthly cycle (it wouldn't have been fun other wise
) , my stomach is a mess (actually make that my entire digestion...).
The foods I've listed above are the usual standbys I know work, but from experience it'll take me another 2-3 days to be able to eat normally again and I'd love to have some other options. I've been alternating them for the past 3 days (that's breakfast, lunch and dinner) and would be happy to have 1 or 2 more options to add to the mix.
Replies
Categories
1.4M

Health, Wellness and Goals

98.7K

Social Corner

2.6K

MyFitnessPal Information