What do you splurge on?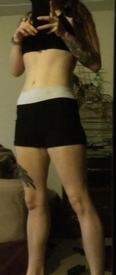 whether it be money or calories.
Some people splurge on organic stuff, Alcohol, Chocolate cake. Kitchen gadgets or new clothes..
Ill give an example.
For greek yogurt i have to have one of the most expensive brands. It tastes the same...has same basic macros as cheaper...but the cheaper makes me sick. I also eat cheap dinners of mainly potatoes so i can afford to buy more expensive snacks. (and yummy parfait toppings
)
I like pre porrtioned things that tend to be expensive, Like dessert puddings. Or dessert greek yogurt mini cups (ouch on expense) or larabars which are epensive but i love them.. But i find them worth the splurge!
I also consider fresh strawberries this time of year a splurge but i love them so i again eat cheaply wherever possible to buy a tub everytime i shop
Also like to splurge my leftover calories on alcohol (hello many others who also do this on weekends ;D )
Just wondering what things you guys splurge on and why its worth it to you.
Replies
Categories
1.4M

Health, Wellness and Goals

98.5K

Social Corner

1.7K

MyFitnessPal Information