This Never Happened Before! (Fun with Weight Fluctuations)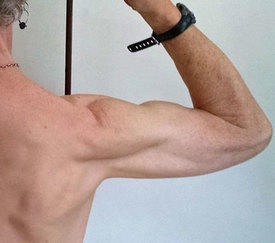 I've tracked my weight daily for over a decade, even while not particularly trying to lose. (I'm not obsessive; I'm a data geek on many fronts, not just weight.) I'm pretty familiar with my weight fluctuations.
Today, I think I saw my biggest overnight loss
ever
. Five pounds fluctuation up or down overnight isn't unheard of, even at my current weight in the 130s. Two to three is pretty common.
Yesterday (Saturday), first thing in the AM weigh-in, I weighed 137.6 (a recent high; I'd been 133.4 on Thursday). Today, I weighed 131.4, a whopping 6.2 pound drop overnight.
Woo hoo? Nah, not much hoo, maybe a little woo.
I have a general idea why it happened: I overate
a lot
Thursday, ate a major sodium bomb right before bed Friday, so salt/carbs/digestive contents in transit had the scale way up on Saturday.
Saturday, I skipped my strength workout (bad Ann!
) so probably dropped a little water from that, drank plenty of water because of Friday's salt fest, ate substantially less fiber-containing bulky food than usual so probably finally reduced the food in transit again to below normal (digestive transit can take 50+ hours), then slept very late so an unusually long no-intake time to dehydrate a bit.
It's no big deal. I didn't eat 14,700+ calories over maintenance on Thursday and Friday, which is approximately the amount it would take to get me a fat gain to account for going from 133.4 to 137.6. So the gain wasn't fat. Since I didn't have a 21,700 calorie deficit on Saturday (heh - li'l ol' lady don't do that!) the loss wasn't fat, either. Prediction: I'll be back 133-134 again tomorrow as usual, if today continues as planned.
If you're new to this whole data-driven weight loss thing, with daily weighing and calorie counting, you'll see fluctuations. They might even be
big
fluctuations. If you didn't eat enough calories over maintenance to explain a scale jump, and you didn't eat little enough plus work out enough calories to explain a big drop, it wasn't fat.
Don't worry about it. Just keep happily on your healthy course, stress-free. It'll be fine.
Replies
Categories
1.4M

Health, Wellness and Goals

98.3K

Social Corner

974

MyFitnessPal Information