Motorbikes and fitness trackers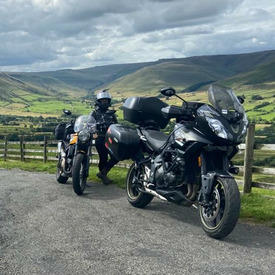 Hi all,

I've recently started commuting on a motorbike. I wear a fitbit (charge 2) and I've noticed it's started telling me I've burnt significantly more calories in a day. This appear to be because my heart rate spikes massively when I'm riding, making my fitbit think I'm doing exercise.

Now I know you do burn more calories riding a bike over, say, driving a car, and I don't have a screen, so I am bearing the full brunt of the wind, however I don't want to eat back all my exercise calories if they're unjust (especially seeing as I'm trying to lose right now). Prior to getting my bike I've found that my fitbit has been pretty spot on with my calories expenditure (using CICO and weightloss trends data) and I'm starting to build up some data now, but it'll be weeks before I'm really able to get a proper picture of what's going on, and even then I do some exercise without my tracker so there is always some level of systematic error in my data.

Does anyone have any experience with motorbikes and fitness trackers, and if/what adjustment is needed.
Replies
Categories
1.4M

Health, Wellness and Goals

98.8K

Social Corner

2.8K

MyFitnessPal Information