1 year later, 76lbs down!!
I have a hard time believing it's been a year since I decided to change my life. The journey hasn't been all rainbows and sunshine, but honestly, I really have enjoyed it and I'm so glad I committed and pushed through. I am a much stronger person on the inside and out now.
I remember the day I decided to change my mind. It was May 28, 2011 and I had just went to my doctor's office...to my absolute horror, I weighed in at a whopping 230lbs. The number shocked me...so much so that I decided right then and there that I'd start counting calories. I was totally against exercise, but after finding MFP shortly after, and reading about all the benefits of exercise, I started small, with Jillian Michaels' 30 Day Shred, then moved on to her Ripped in 30, then moved on to many many many other DVDs and even *gasp* running! Which, I will admit, I still hate to run...but I do love my circuit training. And Jillian gets results that can't be argued with!
I thought by this point I'd have hit my goal weight a few months ago, but I am just 9lbs away and I now realize it might take a while to get these last few pounds off and that's ok with me. I am "on the edge of glory" and I feel like I'm already there. I am actually happy with myself and my body. There is still some work to be done, and tightening up to do, but the hardest part is over now and I couldn't be more proud of myself.
Just know, no matter how hard it is some days, no matter how lazy you feel, you CAN do it. I am proof! I was so against working out and even dieting, but I've learned to embrace them and make them work for me. Know that you are not alone and you will never know how strong you are until you push yourself and realize your true potential. You can do it!! Never give up! Ever!!
So, here is my comparison pictures. I hope it works! Sorry about the size difference, but you can clearly see the 76lb change!
(Feel free to add me, and you can look at my profile pics, which will show the beginning of my journey, after 30DS, after Ripped, etc.)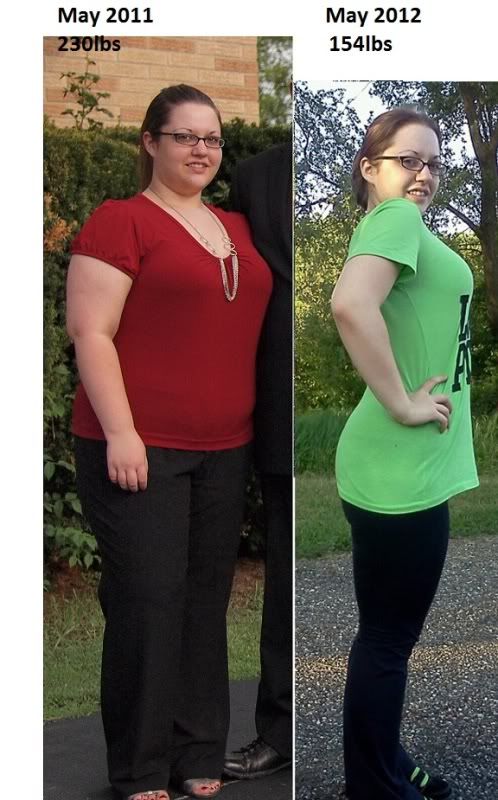 Replies
Categories
1.4M

Health, Wellness and Goals

98.8K

Social Corner

2.8K

MyFitnessPal Information
Do you Love MyFitnessPal? Have you crushed a goal or improved your life through better nutrition using MyFitnessPal?
Share your success and inspire others. Leave us a review on
Apple
Or
Google Play
stores!