What to look for in a personal trainer?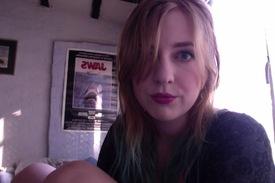 I'm getting a personal trainer for the first time ever and I'm really not sure what to look for.

My gym has a few trainers and they have biographies on the wall, showing all their different interests and different strengths and qualifications. They have different price tags too, and I have to stay at the cheaper end.

I've booked my first session with a trainer whose biography was inspiring to me because she said she'd weighed 17 stone and had lost all that weight. Her interests are introducing women to weight training and weight loss and nutrition. So it sounds promising but they all look good on paper.

I don't really want to hop around trainers until I find the right one because I'd quite like to get on with a program, plus it's kind of expensive, but also I really want to get my money's worth.

I want to improve fitness and lose weight, pretty straightforward goals I think. I'm not new to the gym, just whilst I have the best intentions my workouts can be a bit directionless and lack structure. I'm fine at cardio by myself, but I need guidance on the best way to go about things for the best results.

So yeah...I'm just wondering when you've got a personal trainer, what have you looked for? What do you think is important? What is a red flag that tells you that trainer isn't right for you?

And how many sessions/hours a week do you go for? The trainer I'm going to see has suggested an hour a week is a good place to start, and thinks it's better to split that up into two half hour sessions, so that's what I'm doing, but I'm just curious in how other people have done it.
Replies
Categories
1.4M

Health, Wellness and Goals

98.8K

Social Corner

2.8K

MyFitnessPal Information