What a nice/shocking surprise...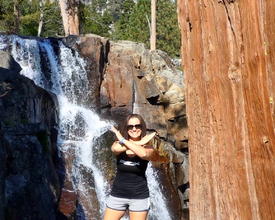 I have been so frustrated lately with my 5 lbs weight loss. It seems like I've been STUCK forever now.
Tomorrow my husband and I are going to watch our local baseball teams playoff game in Sacramento (they are kicking butt)
:bigsmile:
So my hubby went and bought me a new shirt to represent. What a sweety
Anyways I decided to try on some shorts to see what worked and since it's raining and overcast I decided to try on some of my jeans as well...OMG!!!
To my surprise
:noway:
with only a 5 lbs loss, my pants that were TIGHT, TIGHT back in Feb. are loss on me?
I pulled them off without unbuttoning them
:bigsmile:
It's amazing what toning does. I always tend to get so hung up on wanting the numbers on the scale to go down. Sometimes I forget to slow down and think of what everything else I've been doing does for my body (cutting back on what I eat, toning and workouts).
Working out isn't anything new to me, but since I've been trying lean up and loose inches I've made my workouts WAY more intense
On top of my regular gym workouts. I had been riding my bike 15-20 miles a day. That was definitely starting to pay off. There has been alot of road work in my town this past month. I know once I'm able to ride to the other side of town again, hopefully starting this week, more weight and inches will come off...YEAH!!!
One more size and my $100.00 Lucky jeans might fit me again
:bigsmile:
So that was my sweet surprise today
Kel~
:flowerforyou:
p.s. I added 3 new pics of my cute new shirt and my new shorter hair cut I got today
:bigsmile:
Replies
Categories
1.4M

Health, Wellness and Goals

98.8K

Social Corner

2.8K

MyFitnessPal Information
Do you Love MyFitnessPal? Have you crushed a goal or improved your life through better nutrition using MyFitnessPal?
Share your success and inspire others. Leave us a review on
Apple
Or
Google Play
stores!