Two Hearts Terrine 261 cals 18g fat 5g carbs 20g protein
Here's one I learned many years ago at a cooking class at The Disney Institute at Disney World. It's got a lot of ingredients, but I'll double or triple the recipe and make several rolls to eat over the course of several meals. I can eat the terrine mixture right out of the bowl - but it's best served with a mixed greens salad and drizzled with warm olive oil and balsamic vinegar.
1/4 cup cooked shrimp, minced
1/4 cup artichoke hearts, minced
1/4 cup cream cheese, softened at room temperature
1/2 tablespoon shallots, minced
1/2 tablespoon capers, minced
1/2 tablespoon fresh parsley, chopped
1 tablespoon Parmesan cheese
1 teaspoon Dijon mustard
1 teaspoon extra virgin olive oil
1/2 teaspoon chopped garlic
salt and pepper to taste
1 ounce sliced smoked salmon, Novie preferred
1 canned heart of palm, blotted dry and trimmed
2 tablespoons of ground pistachio nuts
I like to prep everything in advance. Helps me stay organized. Get the first 11 ingredients (everything except the salmon, heart of palm and pistachio nuts) ready to go.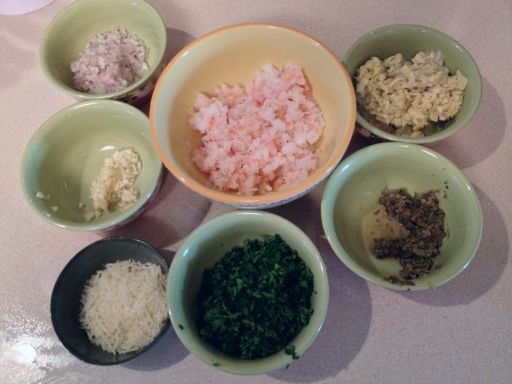 Dump the terrine ingredients in a bowl and mix well.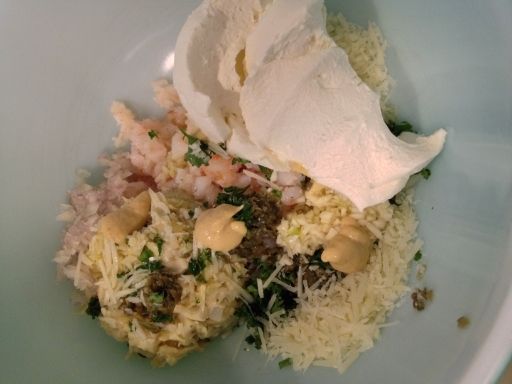 Spread the mixture on parchment or wax paper into roughly a 4" x 4" square. Blot dry a heart of palm and wrap with a slice of smoked salmon.
Using the wax or parchment paper to form the roll, wrap the terrine mixture around the salmon-wrapped heart of palm.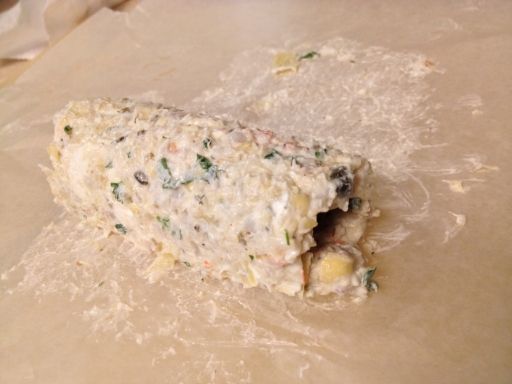 Keep the roll wrapped in the paper and refrigerate for 1-2 hours. After the roll is well chilled, unwrap the roll and spread the chopped pistachios into a rectangle. Gently roll terrine over the pistachios until it's encrusted. Wrap the roll back up in the paper and chill until ready to serve.
With the terrine still wrapped in paper, cut into discs when ready to server. Gently pull the paper of each disc and arrange on a chilled salad plate. Goes great with mixed greens, warm olive oil and balsamic vingar.
Replies
Categories
1.4M

Health, Wellness and Goals

98.4K

Social Corner

1.3K

MyFitnessPal Information