Today is my 1 year loggiversary on MFP!
I signed up Dec 2012 but didn't do anything with MFP until April 2013. After a little bit of research I started making sure I was logging food every day. I have exceeded my original goal of 170, though a while ago I had set a new goal of 160 (I may change this again to 155). Even though it took longer than I had expected it to take to get here, I am okay with it. I am so happy with my results and I know I can and am going in the right direction and I am unstoppable!
If anyone is interested in my back story, you can find it here:
http://www.myfitnesspal.com/topics/show/1046999-by-way-of-introduction-and-a-nsv
(Yes - I spelled losing incorrectly)
If you don't want to read that - TL;DR - I wasn't always overweight, gained a bunch of weight in recent years due to eating too much, found MFP and figured out how many calories I really needed, started eating at a deficit and started losing weight.
(Interestingly enough the two women - the only two who commented on that post - have become the two most important people that I have met here on MFP. They are truly awe inspiring women! Thank you ladies - you know who you are!!! xoxo
:flowerforyou:
)
The goal bucket of clothes that had been tucked away for over three years is completely empty and I have already gotten rid of about half of those clothes and am wearing a size 10 more than a 12. . I sometimes chuckle to myself when I think that was my goal. That bucket of clothes and now those clothes are too big! Even the 10's are kinda loose.
How did I do it?
I figured out my TDEE with a moderate exercise level (injuries) and I created a moderate deficit (I LOVE FOOD) so that I lose less than a half pound most weeks and a lot of weeks I've lost nothing. There were even several weeks where I gained, but I just kept going at a moderate deficit. I weigh EVERYTHING and log everything - the good, bad and ugly and believe me there is ugly. I just keep going. I haven't really 'given up' any foods. There are some I eat less of, sure but I still have ice cream on the regular and I eat chocolate every day.
I work out - my main cardio is and almost always has been walking. I started to incorporate kick boxing and some step aerobics as well, but pretty much had to stop that. (I have hip, butt and now foot issues). And I lift. I want to lift heavy, but I really can't - not yet anyway, so I lift moderately. I just keep going, at least 3x a week. But really I just exercise to look good naked.
:laugh:
I don't get big burns from exercise. I am in awe of people who do. I average in the low 100-200's, rarely will ever get into the 300's. I am okay with this too. Using the TDEE method, I don't eat back exercise calories.
My plan – Continue to eat the foods I love at a moderate deficit to lose weight. Exercise to be fit (and look good naked)
I do have a number on the scale in mind, but I am really more interested in how I look and feel. I want to lower my BF% and so losing slow and steady is good for me.
Now what everyone really came here for - pictures! I am really happy that I have had a friend and co-worker take comparison photos of me in the same/similar outfits all along the way! It has helped me see where I am as I am going along and has helped me stay focused.
Stats:
Height = 5'7"
Age = 46
HW = 216
Start = 207/16/XL/40DD
6/9/14 = 168.3/10/M-L/36-38C
Goal = 155-160/(8?)/(M?)/(36C?)
(And yes I am perfectly okay with losing my DD's. I can't tell you how nice it is to be able to wear all the cute tops I could never fit in (or button up) before!)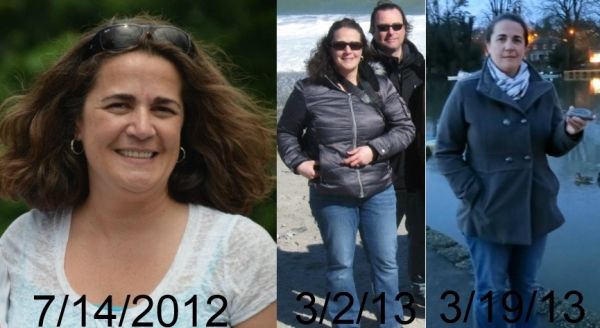 The date on the picture on the right is incorrect. It should be from May 2013.
:grumble: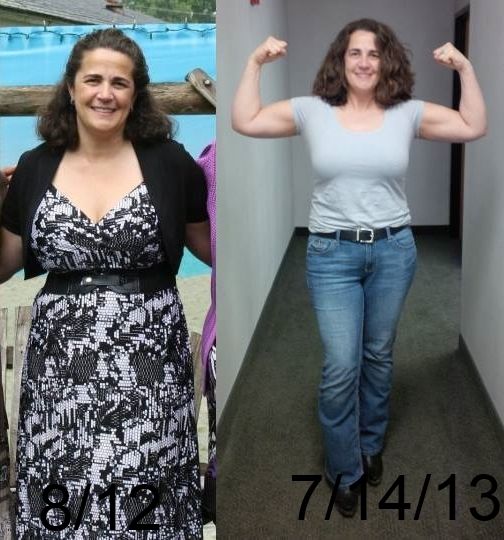 7/01/13 `189 size 14 - 9/17/13 `179 size 12
10/30/12 `207 - 9/23/13 `178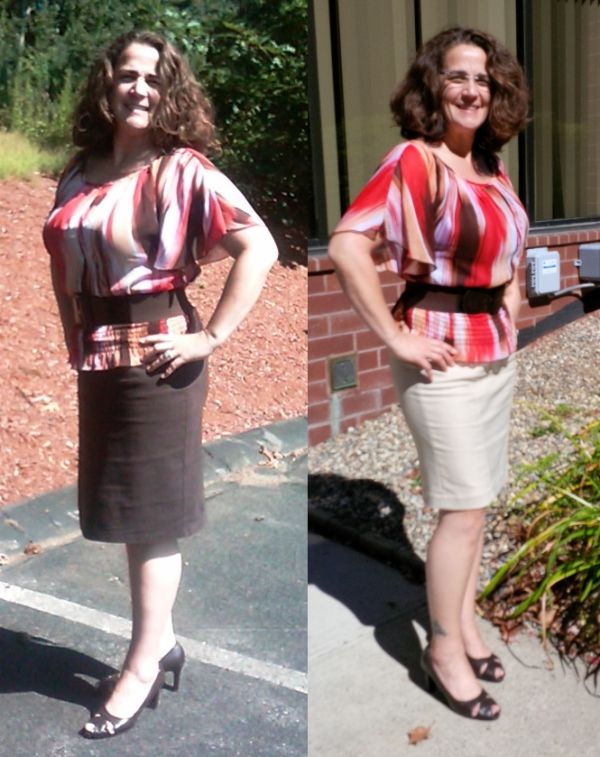 Top July 2013 `190 - Bottom January 2014 `176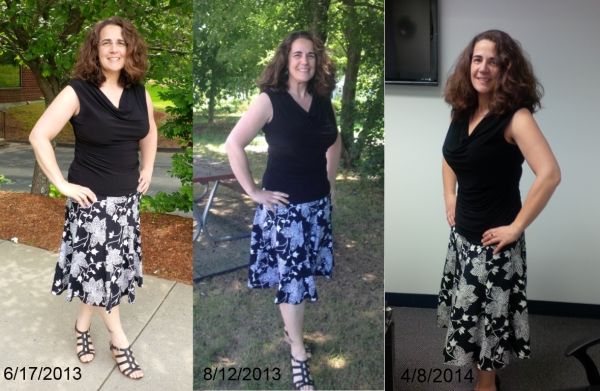 04/02/14 `172 size 12 jeans - 5/22/14 `170 size 10 jeans
9/12/13 180 - 5/12/14 170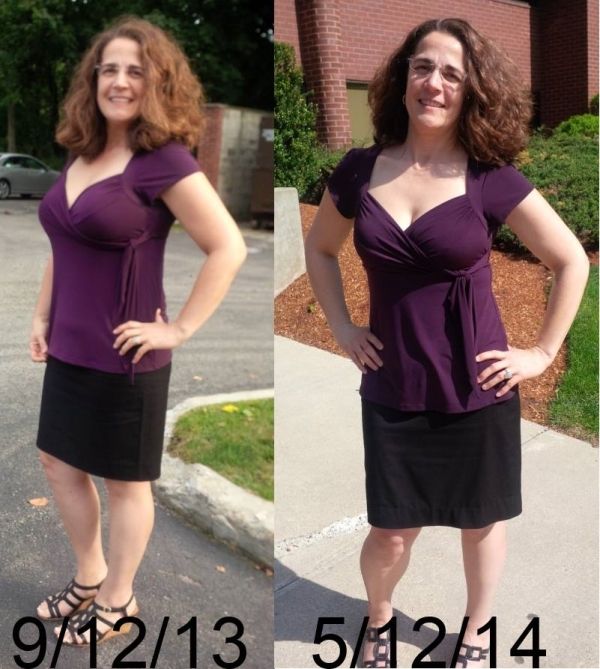 June 7, 2014 169 Medium Old Navy top and bottoms.
Front row to the gun show.
:happy:
In the end, I don't care how long it takes me to get to my goal. I am happy to keep working towards it and to just keep going. Thanks for stopping by! Happy Monday all.
Replies
Categories
1.4M

Health, Wellness and Goals

98.3K

Social Corner

1.1K

MyFitnessPal Information